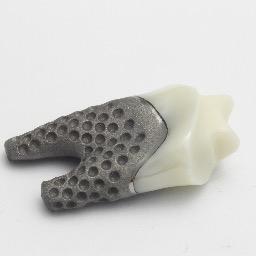 The Berlin-based dental-tech company Natural Dental Implants AG focusing on manufacturing replicates of lost teeth consisting of the root and the crown. Its Replicate System aims to make drill a thing of the past. After four years of testing in Germany and internationally, NDI AG has launches its product in Germany and the US. In order to raise awareness surrounding the launch, NDI AG has synced with Companisto for its equity-based crowdfunding campaign. To date, the dental tech company has painlessly extracted over 1,359,490€ from over 396 investors for 3.23% share offered toward its 1.5M€ funding goal; 1M€ was co-invested. NDI has been valued at 45M€.
Founders Rüdger Rubbert (German mechanical engineer, inventor and experienced CEO) and Lea A. Ellermeier (US marketing and sales executive and experienced CEO) have already established several successful technology companies and have more than 20 years of experience in introducing disruptive technologies in healthcare. The last US start-up they founded, Lingualcare Inc., was sold to 3M Company (NYSE:MMM) in 2007.
[clickToTweet tweet="All Smiles! @NaturalDentalAG Nears @Companisto #equitycrowdfunding goal @crowdfundinside" quote="All Smiles! Natural Dental Implants Nears Companisto Campaign Goal"]
In 2016 alone, 16.7 million teeth were replaced in the industrialized countries alone, either by implementing an implant or a pontic. A long-lasting, often painful and frustrating procedure, given that implants normally require several surgical intervention while pontics often harm surrounding teeth. The REPLICATE® System by NDI AG seeks to avoid these disadvantages, offering a new and conservative way of replacing teeth.
"The trained toolmaker and engineer that I am, I was frustrated by those out-dated procedures that are still in use today," shared NDI founder Rüdger Rubbert. "Of course, I wondered if there was a better solution that benefits the patient"
The process: 3D x-rays of the tooth and jaw are taken in order to manufacture an exact replicate. The replicate consists of a titan root while the tooth itself is made out of ceramic, both materials are joined completely seamlessly so that bacteria cannot do any harm here. The titan root features tiny recesses for the jaw bone to grow, according to NDI. There is no drilling needed, the Replicate Tooth is inserted into the alveola and implemented. Temporarily there will be a pontic in place that will be replaced after a healing period of four to six months by a conventional crown. After that, all grins.
"It's not only that this procedure goes easy on the patients – in more than 95% of cases there is any complication  – the dentist as well benefits since he is not required to buy expensive equipment and he saves a lot of time compared to conventional methods," added Rubbert, the first client. "This is time he could use for other patients. Any dentist that knows how to properly pull teeth will be able in most cases to insert a Replicate Tooth."
The founders and employees have invested more than €600,000 in NDI AG. German and US business angels and VC companies have also invested €12.5 million together. In addition, institutional investors which include HTGF, BB Biotech Ventures, GUB and IBB Beteiligungsgesellschaft have invested €7.7 million. The Investitionsbank Berlin contributed to the financing of business development with a loan of €890,000 under the ProFIT program.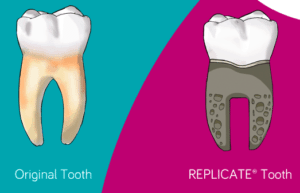 Crowdfunds will be used to relocate and expand the Berlin plant to efficiently meet increased demand, hire additional production staff at the Berlin plant, register the REPLICATE System for approval in the US with the FDA, renting new premises in the USA for sales and customer support (with the prerequisite of being able to expand for future production), prepare the US launch and recruit and train US employees for customer care.  If the campaign exceeds €1,750,000, DNI plans to hire employees to support distribution in the USA; at €2,500,000 investment level DNI will expand its infrastructure and purchase original equipment to start production in the USA and make preparations for going public on the Euronext stock exchange.

44 days remain on NDI's campaign, with the option to extend until 8 December 2017.  For more details, click here.

Have a crowdfunding offering you'd like to share? Submit an offering for consideration using our Submit a Tip form and we may share it on our site!

Sponsored Links by DQ Promote