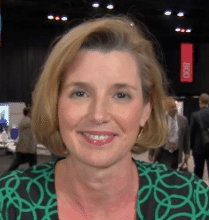 Online investment advisor Ellevest has raised $32,458,913 million according to a Form D filed with the SEC. The document was signed and submitted last week indicating that $2,180,015 is remaining to be sold (if you are interested). To date, Ellevest has now raised $51 million in three different funding rounds. There are some big names participating too, the Levchin's and Mohamed El-Erian are on board. It has been reported that Venus Williams is an investor and there are many others.
Ellevest is a female focused online platform that is competing in the Robo-Advisor space. But unlike other platforms, Ellevest is super focused on helping women achieve their financial goals -whatever they may be. As the site explains;
"That's what happened when our co-founder and CEO, Sallie Krawcheck, realized the investing industry has been, frankly, "by men, for men" — and has historically kept women from achieving their financial goals. Sallie has made it her life's mission to unleash women's financial power and get them invested in their biggest."
Krawcheck is a Wall Street rock star.  She has done just about everything you can with stints at Sanford Bernstein, Smith Barney, Citi and Merrill Lynch.  At Citi she was the Chief Financial Office and then CEO of Wealth Management. At Merrill she was CEO of Wealth Management and US Trust.
So what's next after achieving the highest possible executive positions in the financial capital of the world? You start your own business.
Krawcheck's light bulb moment came when she realized the investing business has largely been "by men, for men — and has historically kept women from achieving their financial goals."
Krawcheck comments frequently on gender issues and women empowerment. In a recent post she explained;
"Today, my career is focused on helping women close their "gender money gaps." (Those are fancy words for trying to get more money in the hands of women.) Do this, and the women benefit…and their families benefit….and our economy benefits…and society benefits. I do this through Ellevest (a digital investment platform for women) and Ellevate Network (a global professional women's network, which helps women advance at work)."
So Ellevest is the culmination of her experience and vision for effective investment management. Ellevest explains that "gender neutral" investing is a big fail when it comes to women. Ellevest wants to change all that and make investing more effective for women.