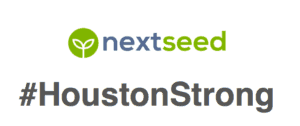 The world has witnessed the devastation wrought by Hurricane Harvey on the citizens of Houston. Houston's metropolitan area population is around 6 million making it one of the largest cities in the United States. It is hard to fathom the tragedy of the unprecedented flooding that has wreaked havoc on the city yet daily stories arrive of heroism, grit and determination to help others and propel this Texas city to recovery.
One of the most prominent crowdfunding platforms in the US is based in Houston, Texas. NextSeed, an online marketplace funding small business in Texas and around the country has recently shared an update on what some of their funded companies are doing along with a list of resources that can be utilized to support Houston bounce back.
NextSeed stated;
"Houston is still dealing with the aftermath of Hurricane Harvey, yet the outpouring of support continues to grow. First responders and volunteers from all over Texas and our neighboring states have parachuted in to lend a hand. We can't say "thank you" enough! We're also incredibly proud to be associated with the NextSeed businesses that are jumping head-first into the recovery efforts."
We understand the NextSeed offices were fortunately spared by the flooding but the NextSeed team is working hard to help out.
Small Business Helping Out
NextSeed has also provided a list of non-profits focused on helping Hurricane Harvey victims get the needed support, food, shelter and additional necessities to get through this difficult time. We have republished this list below.