Securrency, a RegTech company with a platform designed to streamline regulatory compliance for token offerings, announced on Thursday it has signed an extensive strategic partnership with Humaniq, an Ethereum-based Blockchain ecosystem looking to bring financial inclusion to over 2 billion unbanked people globally.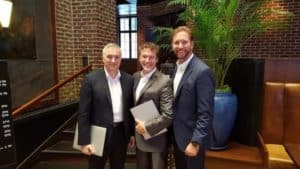 According to Securrency, the partnership included an investment into its platform by Humaniq as the lead investor of its investment round. It was revealed:
"Humaniq will also provide additional technological capabilities which will be used for their collective efforts on a LegalTech platform. This LegalTech platform is designed to efficiently match capital to opportunity in transformational emerging technologies. The platform will provide efficient access to capital for startups, liquidity for frontier markets, and a scalable securitization process for established global industries. By automating certain compliance functions and connecting legacy financial services to the power of the blockchain, the team sees a path to revolutionize technology finance."
Dan Doney, CEO of Securrency, stated:
"Humaniq's extensive technology network provides us opportunities to partner with world-class practitioners in some of the most important emerging technologies in the 21st century including blockchain, artificial intelligence, and longevity research. In turn, our platform provides investors access to emerging stars in these fields fueling the transformation of R&D and finance globally."
Dmitry Kaminskiy, Co-founder of Humaniq, also commented:
"Securrency's vision aligns with what we are doing at Humaniq. They provide entrepreneurs, researchers, and value creators a new path to the capital needed to fuel the technology revolution. By streamlining regulatory compliance and providing a 'one-click' path to capital markets, Securrency enables innovators to focus on bringing transformative ideas to market rather than getting bogged down in financial regulations and together we can pave the way for the convergence of technologies, financing, and commercialization into markets globally."
Securrency is a fintech/regtech platform designed to efficiently match capital to opportunity bringing liquidity to previously illiquid asset classes.