Keynote Speakers at LendIt Europe Include: Anthony Jenkins, Renaud Laplanche, Anne Boden, Jaidev Janadarna and more.
LendIt Europe, the European event series covering Fintech and lending, has shared its keynote speakers for this years. LendIt expects more than 120 speakers will take to the stage with expertise spanning banking, lending, technology and regulation. The conference will offer a combination of presentations interactive panel discussions, and LendIt's "PitchIt" competition, where Fintech startups will have the opportunity to pitch their business to some of the biggest VCs in the industry.
"The speakers who'll be leading the talks at LendIt this year offer a phenomenal range of expertise in a variety of different industries within the fintech space. The speeches will cover some of the most critical issues for fintech, at a time when we're seeing plenty of change within the sector as a whole," commented Peter Renton, LendIt co-founder and Chairman.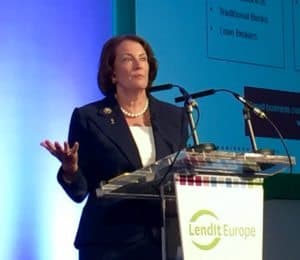 The conference's extensive speaker line-up includes:
Antony Jenkins, Founder and Executive Chair at 10x Future Technologies
Jenkins was group CEO of Barclays plc for three years until July 2015. Since then he has turned his experienced hand to the tech sector, launching 10x Future Technologies, an alternative banking company seeking to change the way banks serve their customers. Jenkins is also Group Chairman of Currencies Direct, the leading UK non-bank provider of foreign exchange and international payment services, and board member of Blockchain.
Anne Boden, CEO and Founder of Starling Bank
Starling Bank is one of the leading digital and mobile-only banks in the UK. Boden has more than 30 years' experience in banking and has been working on the idea for Starling since 2004. She will be speaking on our keynote panel looking at the digitisation of finance, and how customer expectations are changing. She will provide her perspective on the different expectations younger customers have when it comes to banking.
Jaidev Janadarna, CEO of Zopa
Janadarna built his extensive knowledge of the lending landscape with more than ten years at Capital One. He has since been at the helm of Zopa, the world's first peer-to-peer lending service, for the last four years, taking the original peer-to-peer lending startup from strength to strength.
Karen Mills, Senior Fellow at the Harvard Business School
Mills was a member of President Barack Obama's Cabinet, serving as the Administrator of the U.S. Small Business Administration from 2009 to 2013. She has produced numerous white papers on small business lending in the US. She will be speaking on the state of the US lending market on the main stage where she will provide perspective on the US small business lending category.
Renaud Laplanche, Co-Founder & CEO of Upgrade
Laplanche founded Lending Club in the USA in 2006. As CEO, he guided the largest platform through an IPO of over $20 billion. His second act is Upgrade, where he raised a $60 million Series A earlier this year – the largest ever Series A for a fintech company in the US. He will be giving the opening keynote on day two of LendIt Europe where he will be discussing the future of online lending and its role in the fintech industry.
Taking place on 9-10th October at the O2 in London, LendIt Europe unites global influencers, and provokes cutting edge debate on European fintech and lending with an international perspective.