One Spark announced on Wednesday it has extended its creator application deadline once again after the devastating Hurricane Irma ripped through Florida and the Carribean last week. The Creator application deadline until midnight, September 16th. Innovators and entrepreneurs may apply for the 2017 Innovation Festival taking place October 6-7 at EverBank Field by Saturday night.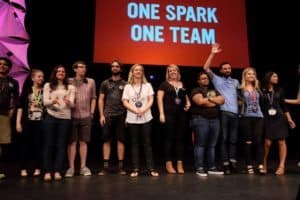 According to One Spark, the One Spark 2017 festival will welcome up to 150 Creators to receive real market validation, promote individual crowdfunding platforms and make connections with the community. These Creators will be organized by zones, including EdSpark*, TechSpark*, HealthSpark*, SocialSpark* and possibly a section for innovative ideas that fall outside of these targeted zones. Throughout the day, attendees have the opportunity to visit booths in each zone to experience the newest innovations from Creators, form personal relationships and provide feedback.
There is no cost to apply; however, selected Creators will be required to pay $125 to participate in the event.