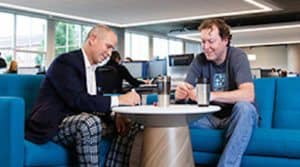 SoFi has published a public letter addressing the allegations leveled by NYT.com earlier this week. While avoiding the accusations of an environment of rampant sexual harassment, the letter tackles the operational questions the report said existed at the online lender.
The NYT report was not the only article that is hammering SoFi. FastCompany wrote that a free-wheeling approach to spilled over into how the business operated. Dealbreaker adds that SoFi's claim they were FICO free when appraising credit risk, really wasn't quite true.
SoFi's Board of Directors now has an uphill battle to regain credibility in its effort to rewire how financial services are delivered. Don't expect any talk of an Initial Public Offering anytime soon.
The letter is republished in its entirety below.
---
Over the last few days, we've been engaged with The New York Times about a story they've now published regarding SoFi's business, culture, and our CEO Mike Cagney. We're going to set aside the personnel matters raised in the story as a matter of policy, and will not address every inaccuracy in the story. However, we have some issues with the story that we want to address.

Mortgage: The story cites unnamed sources saying there was some period where we were "not doing enough" to validate income for mortgage borrowers. This is an incredibly vague claim, and we have no idea what this means. We underwrite our mortgage loans consistent with market standards, which includes rigorous income verification, and consistent with the ability to repay requirements put in place by Dodd-Frank.

Personal Loans: The story implies that our personal loans business grew in part because of a change in the way loans were approved: that customer service reps were approving loans rather than underwriters. That view reflects a lack of understanding of our business. We underwrite loans using a highly automated platform where all credit decisions are made by a pre-defined algorithm that analyzes each applicant's credit profile and ability to pay.

Part of our review process requires verification of income through pay stubs, tax returns, or other documents. In late 2015 we adjusted the responsibilities of the "underwriters" responsible for this document review to re-characterize them as "reviewers" and had them report up to Operations to scale with the company.

Those individual loan reviewers did not have authority over credit decisions. That authority is and has always been held only by SoFi's senior risk professionals. In addition to the review process, we maintain a robust Quality Control process staffed by seasoned credit professionals with direct reporting lines to the credit function.

The story also quotes a former customer service rep from our Healdsburg office saying they lied to applicants about the amount of time it would take for personal loans to fund during a period last year where there was limited liquidity in the markets. We were diligent in updating our website with accurate information regarding funding times, and passed that information along to our customer service reps as it was updated to be conveyed to applicants.

Our Corporate Culture: The story contained disturbing anecdotes about staff behavior in our Healdsburg office. As we shared several weeks ago, we've initiated an outside investigation into allegations of sexual harassment and other improper activities. Swift and severe action will be taken in any instances substantiated by the investigation.

Mike's Departure: The story includes allegations about Mike's discussions with the board about his decision to step down as CEO. We can't disclose what was said during the board discussions, which are confidential, but we can say that many of the descriptions of those discussions have been inaccurate.

A Thriving Business: The story did mention our business performance, and indeed, SoFi is thriving. Since inception, we have funded more than $20 billion in loans, $3.1 billion in the second quarter alone. In Q2, we had $134 million in revenue, up 67% year over year, with adjusted EBITDA of $61.6 million, up 60% year over year. We have more than 350,000 members, and they like what we do – our products run Net Promoter Scores in the 60-80 range, among the highest in financial services.

Not only are we good at making loans, those loans outperform the industry. Our student loan refinance book runs below 25 basis points of annual losses, levels never seen before in the market; personal loan performance is best in class; and we've never had a charge-off in our mortgage book.

Let us be clear: we don't shy from criticism. We will address every question and concern head on. And we will remain laser-focused on serving our growing member base with the tools they need to get ahead.

Sponsored Links by DQ Promote