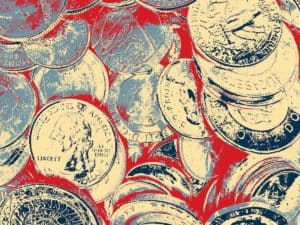 Earlier this week the Commodity Futures Trading Commission (CFTC) published a Primer on cryptocurrencies and blockchain technology. Buried with the document was an interesting statement. The CFTC said "virtual currencies are commodities." The import of this statement means the CFTC is positioning itself as a regulator over Bitcoin etc. This may also have an impact on the burgeoning Initial Coin Offering (ICO) market – a sector the Securities and Exchange Commission put the breaks on when they cautioned that tokenized offerings may in fact be securities and thus must leverage an existing exemption to raise funds.
The CFTC stated;
The definition of "commodity" in the CEA is broad. It can mean a physical commodity, such as an agricultural product (e.g., wheat, cotton)or natural resource (e.g., gold, oil).It can mean a currency or interest rate. The CEA definition of "commodity" also includes "all services, rights, and interests . . . in which contracts for future delivery are presently or in the future dealt in."
The CFTC first found that Bitcoin and other virtual currencies are properly defined as commodities in 2015.
The CFTC has oversight over futures, options, and derivatives contracts.
The CFTC's jurisdiction is implicated when a virtual currency is used in a derivatives contract, or if there is fraud or manipulation involving a virtual currency traded in interstate commerce.
Beyond instances of fraud or manipulation, the CFTC generally does not oversee "spot"or cash market exchanges and transactions involving virtual currencies that do not utilize margin, leverage, or financing.
Regarding ICOs, the CFTC added:

"There is no inconsistency between the SEC's analysis and the CFTC's determination that virtual currencies are commodities and that virtual tokens may be commodities or derivatives contracts depending on the particular facts and circumstances."

So what does this all mean? The CFTC will be paying far more attention to crypto, specifically with regulated activities such as prohibited actions;

"Certain schemes involving virtual currency marketed to retail customers, such as off-exchange financed commodity transactions with persons who fail to register with the CFTC."

Sponsored Links by DQ Promote