Blockchain credit bureau MicroMoney announced over the weekend it is expanding its token distribution campaign into China and U.S. markets. This announcement comes just after the campaign generated $7.8 million.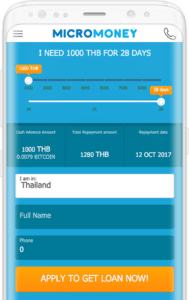 As previously reported, MicroMoney describes itself as a company that is focused on micro-financing in the online money lending industry and states that it aims to provide the "best professional" solutions to consumers' financial needs across Asia and is now available in five Asian countries. The company revealed:
"We have developed a universal system for rapid assessment of credit-worthiness of a client. Now there is no need to collect a large number of documents to confirm ability to repay. All that is needed is to install MicroMoney application on a smartphone. Application is based on neural networks, machine learning, and Big data. After the launch, our scoring self-learning system analyzes the data from the borrower's smartphone and identifies potential credit risks with an accuracy of more than 95%. After that program makes a decision – to issue a loan or not. We processed more than 95,000 unique registrations, got more than 500,000 likes on Facebook during 2 years of work."
While sharing details about the campaign's expansion, Sai Hnin Aung, MicroMoney COO and co-founder, stated:
"We are delighted to expand to new regions with our campaign as it will provide more opportunities to new investors to benefit from our business model. We believe that our policy of socially conscious lending has no boundaries or borders. We hope to invest these raised funds into developing a worldwide network of blockchain based credit business and help serve the 2 billion of unbanked people around the world."
MicroMoney recently noted that it now employs about 200 people in Cambodia, Myanmar, Singapore, Sri-Lanks, and Thailand. The company plans to use the funds from the campaign expand into Vietnam, Malaysia, Singapore, and Nigeria launch its blockchain credit bureau and add over 100,000 previously unbanked customers, thus including them into the global financial system.