Accenture (NYSE: ACN), in collaboration with Expo 2020 Dubai, announced on Friday it was challenging participants from 11 cities around the world to develop prototypes of human-centered digital solutions that help improve the quality of urban living through its first global digital hackathon.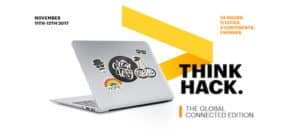 Accenture reported that the 24-hour hackathon will take place simultaneously in Chicago, Bangalore, Dubai, Istanbul, London, Manila, Mexico City, Monterrey, Rome, Shanghai and Singapore on November 11th and 12th.Registrations are open to recent graduates, undergraduates, entrepreneurs and individuals from start-ups with expertise in technology development, design, and marketing by November 6th. It was revealed:
"Inspired by Expo 2020 Dubai's theme of 'Connecting Minds, Creating the Future,' participants will compete on finding digital solutions that organizations can use to address urbanization challenges. Over half of the world's population currently lives in cities and urban areas. This trend, which is expected to continue, is raising challenges such as creating truly inclusive environments, improving work and travel conditions in cities areas, and adopting a more sustainable approach to urbanization."
The proposed solutions need to meet two requirements:
Putting human beings at the heart of the experience;
Using latest digital technologies including wearables, artificial intelligence, analytics, augmented and virtual reality, blockchain and the Internet of Things.
Mike Sutcliff, group chief executive, Accenture Digital, stated:
"We are asking people with digital talents to apply their creativity and ingenuity to two game-changing trends – urbanization and digitization. With both, it is people who should come first. Accenture strongly believes that digital experiences have the power to make cities more livable for customers, patients, workers, students, and citizens, but these experiences can only be successful if they are truly human."
Gillian Hamburger, Senior Vice President of Commercial at Expo 2020 Dubai added:
"World Expos have always been a showcase for innovation. This hackathon, with our Official Digital Services Partner Accenture, is another example of Expo 2020 encouraging innovation and connecting people from around the world to exchange ideas and contribute to the future."
Accenture noted it was named Digital Services Premier Partner and Systems Integrator of Expo 2020 Dubai earlier this year to provide technologically advanced and innovative experiences to participants and visitors.