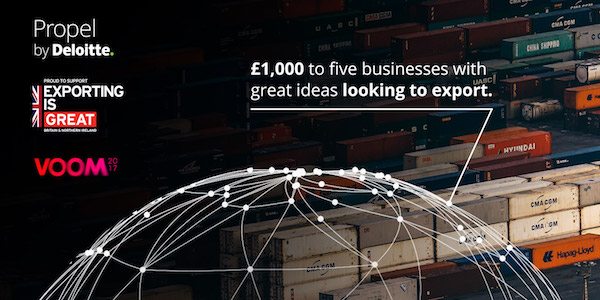 On Monday, Crowdfunder UK announced it has teamed up with Propel by Deloitte for a new initiative that supports exporting businesses. The crowdfunding platform revealed that it and Propel are looking to offer five businesses that are currently exporting, or looking to do so in the future, the chance to win a share of £5,000.
According to the funding portal, the Propel By Deloitte £1,000 Giveaway asked UK based businesses that are currently exporting, or have the intention to do so in the future, to submit their big ideas through Facebook. The Exporting is GREAT campaign is a competition aimed to seek out those who know that borders aren't blockers and offer five businesses £1,000 each. While sharing details about the initiative, Guy Hayler, Head of Business Development at Crowdfunder, stated:
"The quality of projects that were submitted on Facebook at the start of the month was very high, and it made picking five winners from hundreds of entrants extremely hard! It is great to be supporting a handful of ambitious entrepreneurs who are all growing and looking to export or sell their products globally."
Crowdfunder UK also noted:
"On top of the £1k received from Propel by Deloitte, each project will go head to head during the first 72 hours of their crowdfunding campaigns. The finalist that raises the most money during this time will receive an additional pledge of £1,000 from Virgin Media Business, in celebration of their 2017 tour of the UK."
The five winning projects will now go on to raise money from the Crowd on Crowdfunder. The projects are the following:
GroKids
Crowdfunder Project

GroCycle is a Social Enterprise that is pioneering low-tech mushroom cultivation. They have set up the UK's first Urban Mushroom Farm in Exeter, where tons and tons of coffee waste is collected (by bike!) and used to grow healthy and sustainable mushrooms. They offer online courses to help get others growing, and hundreds of people from around the world have joined their food growing quest. Their Crowdfunder project, GroKids, is looking to inspire the next generation about food, by getting them to grow their own mushrooms from coffee waste.

Project owner Adam says, "Being selected as one of the winners for the Deloitte competition and being awarded £1k is a massive boost for us. We'll use the money to further develop our GroKids Schools project, which will help thousands of children to grow mushrooms in school. Running our Crowdfunder campaign will help us to get the word out about our mission to inspire the next generation about food. We've wanted to get kids involved in the process of growing mushrooms for a while now, but never had the time to promote our kids kit properly. We're hoping this campaign will enable us to connect with other people and organisations interested in the same ideas and propel the GroKids Kit forward."

Love Cocoa
Crowdfunder Project

Inspired by his great-great-great grandfather John Cadbury, James founded Love Cocoa with the aim to make British chocolate great again – reinventing chocolate classics with a contemporary touch by being free-from refined sugars, gluten, palm oil and other nasties. Love Cocoa also gives back by donating 10% of profits to charity. They are crowdfunding to launch a collection of chocolate truffles – yum!

Project owner James says, "It's great to win the prize and support from the likes of Deloitte and Exporting is GREAT and the £1,000 will allow us to attend a tradeshow next year in Europe with the new products. We are using our Crowdfunder campaign to launch our new product – chocolate truffles! We have been busy working on the design of the packaging and flavours and feel this is a great way to launch them."

Summiteer – Equipment for the Mountains
Crowdfunder Project

Summiteer make high quality outdoors equipment for climbers, hill-walkers, mountaineers and adventurers. They are raising funds to get their Cumbrian workshop off the ground, where they will manufacture their eco-friendly rucksacks for the great outdoors.

Project owner Ethan says, "The 1k win will allow us to continue our good fight, to make environmentally friendly and ethically sound products. We think it's about time things changed in our industry and we're here to promote that. Crowdfunding is so special. We're not being funded by high interest rate bank loans, but by people who love our products and value our passion to improve the industry."

Fitbites
Crowdfunder Project

FitBites manufacture healthy snacks and promote active lifestyles. Their snacks are 100% natural, raw, free from sugars and preservatives and suitable for gluten free, vegan and paleo diets. They currently manufacture five varieties of great tasting, natural, raw energy balls, but the money raised through their Crowdfunder project will allow them to launch three exciting new products.

Project owner Emma says, "Winning £1k with Propel by Deloitte is incredibly exciting. Not only does it give us great confidence in our brand and products, but it will also support the launch of FitBites Protein Balls. We have pre-sale orders for these both in the UK and overseas and the money will help to propel the launch. The crowdfunding project has been great fun to work on and we have received a fantastic level of support. Launching on Crowdfunder will not only help us to raise the funds to launch our new products, but it will also help to elevate our brand and allow FitBites fans to be a part of our exciting journey."

A Girl for All Time
Crowdfunder Project

A Girl for All Time® is an award-winning boutique toy designer and manufacturer. Their goal is to create gorgeously crafted playdolls and books that celebrate being a girl in an intelligent way, while inspiring a lifetime of play and creativity. They believe that promoting strong female characters in the playroom is a vitally important message, for both girls and boys, and is a key building block in promoting mutually respectful relationships as children grown into young adults. They have been working on developing new accessories for their different collections, and are now crowdfunding to manufacture a new accessory and bring it to the market.

Project owner Frances says, "This is a great opportunity for us. The £1k for our project will help to secure our plans for manufacturing a much anticipated item for our award winning collection and gives us the boost that we need to get our new crowdfunding campaign off the ground. Exciting stuff! As a small business, we have to constantly look for new ways to grow and reach new audiences while still connecting with and producing new products for our existing customers. Crowdfunding for this new project will help us do all of that and bring forward our plans for new designs much earlier than we had anticipated."
The winner will be announced on Thursday.
Have a crowdfunding offering you'd like to share? Submit an offering for consideration using our Submit a Tip form and we may share it on our site!