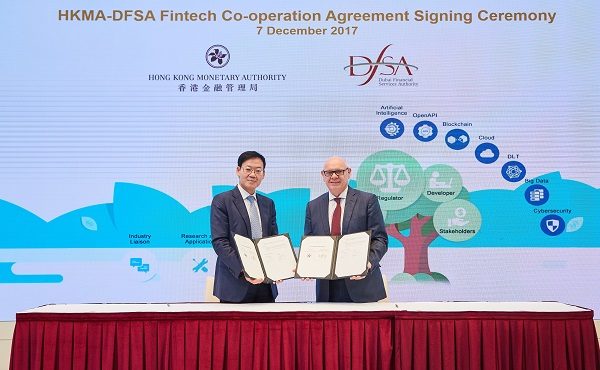 The Hong Kong Monetary Authority (HKMA) and the Dubai Financial Services Authority (DFSA) have signed a Fintech Co-operation Agreement today to boost collaboration between the two regulatory authorities, with a view to facilitating financial innovation in the two jurisdictions.
The Co-operation Agreement was signed by Shu-pui Li, Executive Director (Financial Infrastructure) of the HKMA, and Ian Johnston, Chief Executive of the DFSA, in Hong Kong today.
According to the Co-operation Agreement, the two authorities will collaborate on referrals of innovative businesses, information sharing and joint innovation projects.
Li said said the Co-operation agreement with DFSA showcases efforts to work with the international Fintech community to facilitate the healthy development of the fintech ecosystem.
"The HKMA will continue to explore potential collaboration opportunities with other authorities to support the upgrading of our banking system towards the higher level of Smart Banking."
Johnston said the Agreement with the HKMA is indicative of the importance we place on maintaining a close relationship with Hong Kong's financial services regulator. Johnston called it a natural next step in regulating financial services.

This most recent formal collaboration relationship is part of an ongoing trend for separate financial regulators to partner on innovations in finance while aiding Fintech firms in their goal of expanding beyond their domestic base. Hong Kong has been aggressively pursuing Fintech seeking to become the leading hub in the Asian region. Dubai is the most active regulatory authority regarding Fintech in MENA.

Sponsored Links by DQ Promote