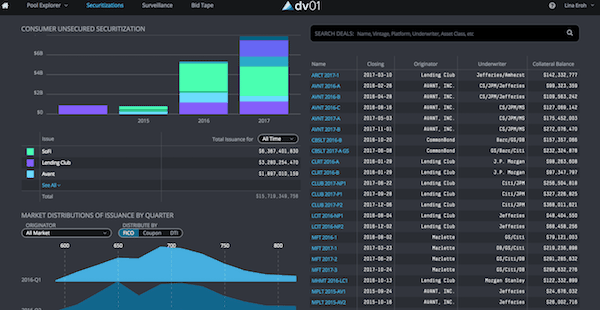 dv01, the data management, reporting, and analytics platform that offers institutional investors transparency and insight into lending markets, announced on Thursday it is set to close 2017 with $7.9 billion of consumer unsecured bonds. This news comes just a few months after the company launched its Cashflows for Securitizations feature.
The company revealed that it has launched a redesigned Securitizations homepage to celebrate the $7.9 billion of consumer unsecured bonds. The new page was designed specifically to provide investors more accessible at-a-glance coverage of the online lending securitization market, as well as make it simpler to find and access a specific deal on dv01.
"The newly launched homepage includes a list of all available deals on dv01, searchable by name, vintage, CUSIP, platform, underwriter, and asset class. (For asset class, you can search by auto, SL, SME, and CU.) Users can sort each of the table columns in ascending or descending order, making it convenient to view trends in collateral balance over time, for instance. Note that users will only be able to access data from originators with whom they have an NDA."
dv01 also noted that the Securitizations homepage includes two new visualizations, with the first being an Issuance Volume stacked bar chart that shows a history of consumer unsecured bonds on dv01 over time. In addition to displaying total issuance volume, this graph also shows volume per originator, including SoFi, Prosper, Lending Club, Avant, Marlette, and Upstart. The bottom of the new homepage features a Joy Plot showing the distribution of a selected characteristic over time.