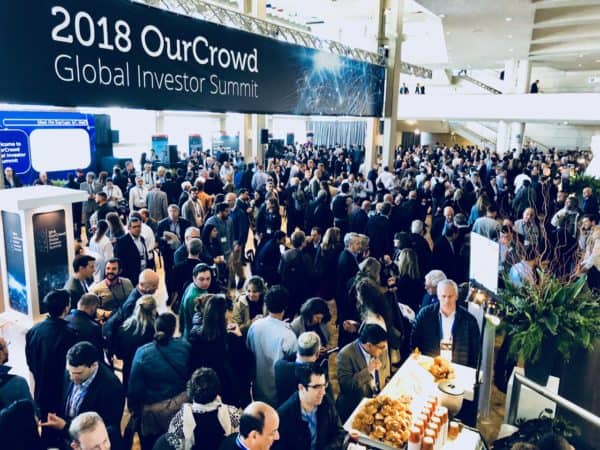 OurCrowd is arguably a vital variable in the rise of Israel's claim to be the leading nation when it comes to entrepreneurial innovation. The country has established itself as a hotbed for early stage tech firms in a diverse array of sectors. Today, most all multinational corporations have established a presence in Israel to be close to the startup action and the opportunity to invest in, or acquire, a promising early stage tech firm. Perhaps one of the best recent examples of a successful Israeli tech firms is the acquisition by Intel of MobilEye last year. Mobileye was purchased for more than $15 billion while simultaneously establishing Israel as a world leader in the hot autonomous driving technology sector.
Across the country during 2017, Israeli high-tech companies raised $5.24 billion in 620 transactions continuing 5 years of consecutive investment growth, according to a report by IVC research center. Israeli VC funds invested $814 million in 2017 – the highest amount since 2013. Remember, Israel is a country with a population of 8.5 million – less than the state of Michigan.
Israel is on the rise and this vibrant entrepreneurial ecosystem is not just based in Tel Aviv. Jerusalem has emerged as a center of innovation as well. The Mayor of Jerusalem, Nir Barkat, describes himself as a "Public Entrepreneur." He has worked hard to boost the economic prospects of his city and his efforts have paid off.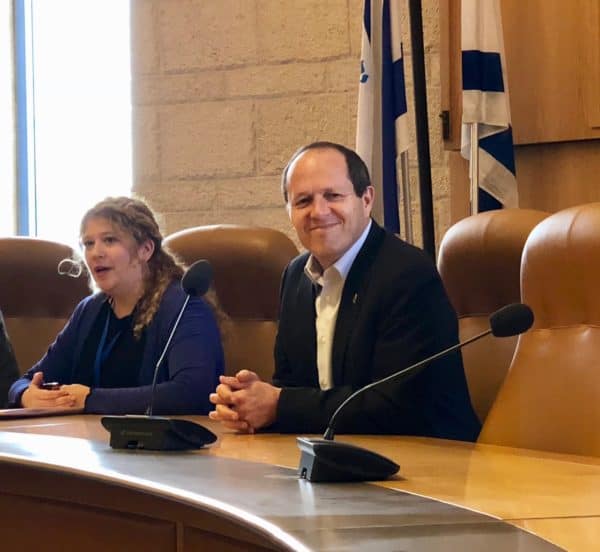 Barkat, a former private entrepreneur, has improved the environment for early stage firms. It is far easier to scale small companies into larger ones than to entice a larger firm to move. Lower taxes, grants targeting early stage firms, improved services including a fast train to Tel Aviv (commencing later this year), have combined to help fuel entrepreneurial success. In the past few years, Jerusalem has gone from home to just 250 startups to over 600. That's an impressive improvement. It also helps that OurCrowd's corporate headquarters are based here.
Last week, OurCrowd held its annual Global Investor Summit. The event was an impressive, professional display of what investment crowdfunding should aspire to be. More than 10,000 individuals registered fro the Summit coming from 120 different countries. Executives from multinational corporations such as Honda, SAP, Samsung, Ping An, and many more, participated in the annual OurCrowd gathering.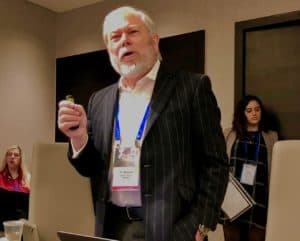 Numerous cool tech startups were on hand to present their business concepts. Examples include Zebra Medical Vision, a company utilizing Artificial Intelligence to automatically analyze X-rays and scans to uncover clinical findings – all for just one dollar. Another is Briefcam, a video surveillance technology that empowers public authorities to monitor and review hours of video in minutes thus quickly, and efficiently, isolating individuals based on a defined set of parameters and characteristics. Having watched the demo, I found the technology exceptionally impressive. EdgyBees demonstrated how their augmented reality drone system operates. Their platform has been used in catastrophic situations to aid first responders with an unbeatable response time providing a vantage point command view. EdgyBees has been used to assist authorities in situations such as the tragic flooding that occurred in Texas during 2017.
All of these companies, and many more, are part of the OurCrowd portfolio of investments.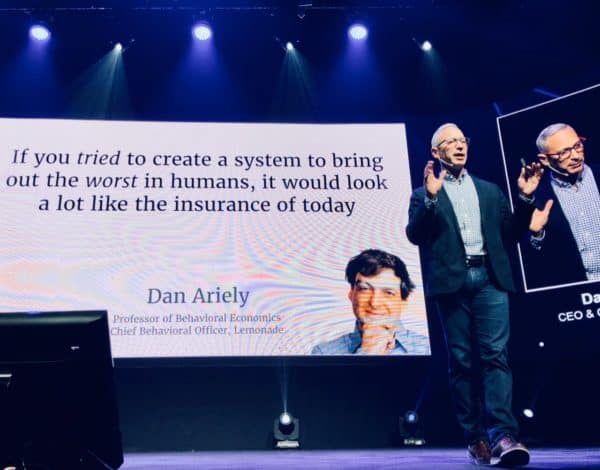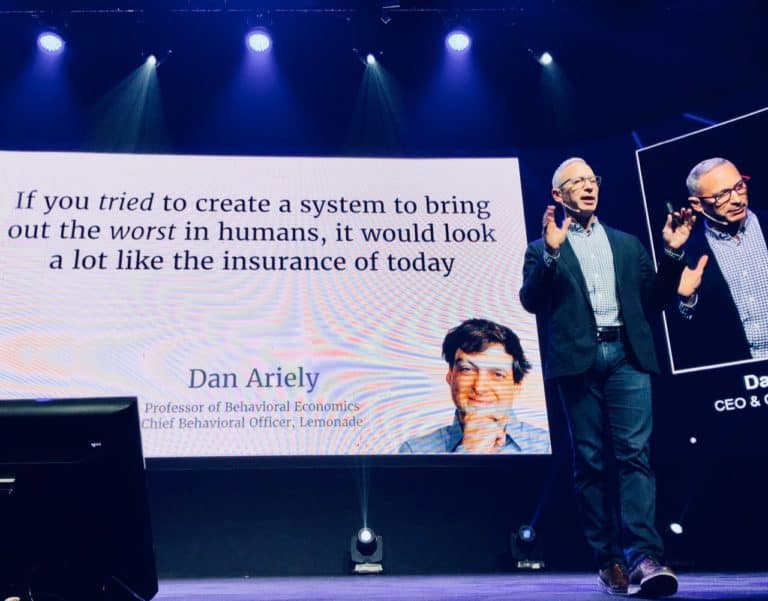 In a few short years, this portfolio has experienced 18 different exists delivering an aggregate 30% IRR for investors. Taking a very selective approach, OurCrowd vets hundreds of applicants and accepts just a few.
To date, 145 companies have been funded.  But OurCrowd takes things a step further as they are on a mission to level the playing field for investors while backing promising young firms. Every single deal listed on the platform receives an investment from OurCrowd directly. Smaller (accredited) investors may join in at the exact same terms as big money.  This means OurCrowd's interests are aligned with the investor but they work hard to assure these companies are a success by connecting them with their ever growing global professional network. If anyone had predicted what investment crowdfunding could be at its best – this is it. Where else can an individual participate in an offering next to world renowned VCs and funds?
[clickToTweet tweet="OurCrowd takes things a step further as they are on a mission to level the playing field for investors while backing promising young firms #Crowdfunding" quote="OurCrowd takes things a step further as they are on a mission to level the playing field for investors while backing promising young firms #Crowdfunding"]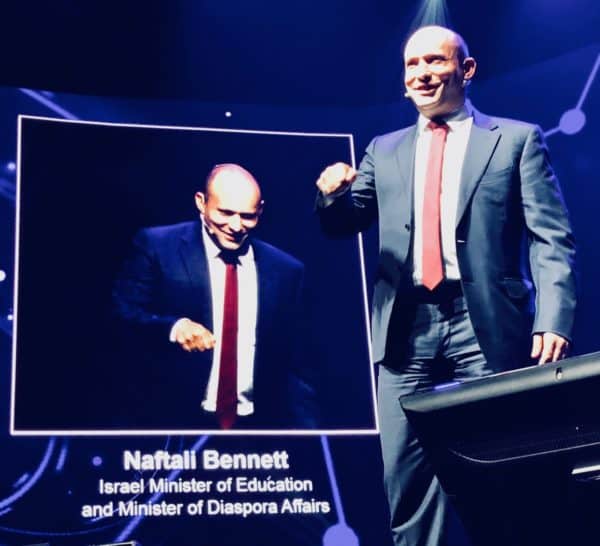 The organizational skills of the OurCrowd Summit team is impressive. Having attended conferences that seem overwhelming once you get beyond a few thousand attendees, OurCrowd's event appears to come off without a hitch, seamlessly orchestrated to manage any glitches. Catching up with OurCrowd founder and CEO Jon Medved is a bit like cornering a rock star. Everyone who is anyone in Israel is here and they all want to catch a selfie with Medved. And he is a man of the people and they know it.
Medved believes that one of the reasons his platform works is the companies they list have a story. There is a social aspect to crowdfunding that is pioneering. People respond to that.
"If you are going to crowdfund you have to inspire the crowd," says Medved. "The crowd is not just interested in money."
Speaking about the Summit investor dinner which took place prior to the event, Medved says the interpersonal aspect of his company is very important as he builds relationships to support his vision. He is very conscious of his location in Jerusalem and the combination of the old and the new caught between the tension of past and present. For him, this is not just about making money. Medved is on a mission to have impact both locally and globally.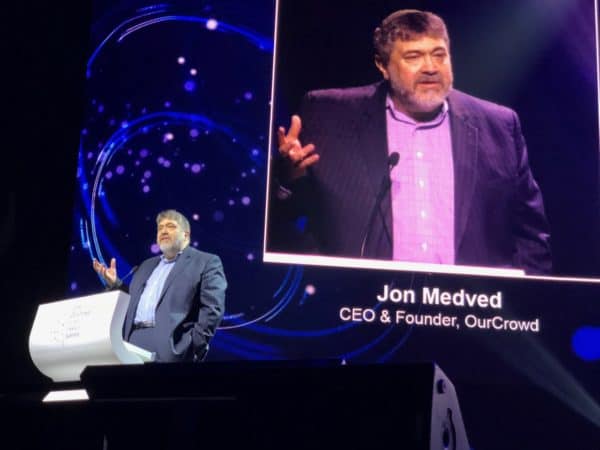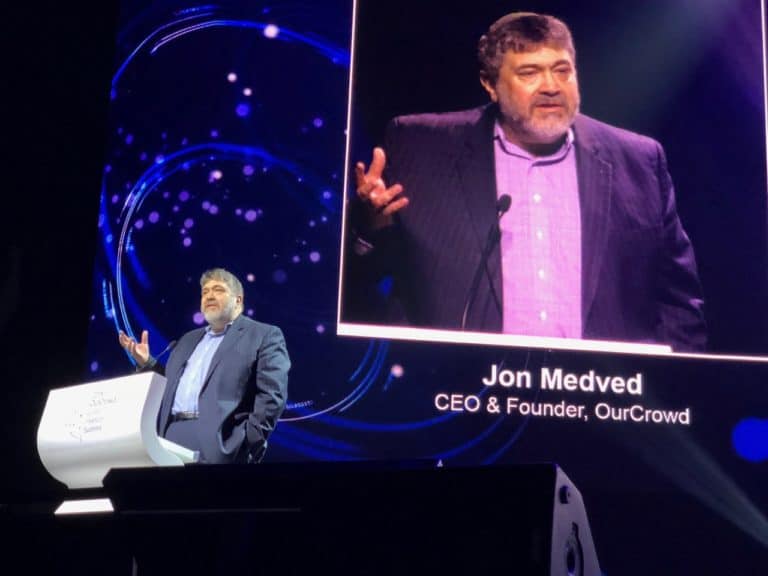 OurCrowd has raised approximately $650 million since platform launch in 2013. Medved expects to top $1 billion at some point in 2018 so the funding velocity is increasing rapidly – so what gives?
On the customer side (investors), there has been a change. From their traditional base of individuals backing early stage companies with $10,000 or more, you now have family offices and institutional money moving in. OurCrowd is scaling faster as new, big money jumps aboard with multi-million dollar checks. This institutional money has vetted the OurCrowd investment process and have become comfortable supporting the OurCrowd offerings.
"This is a big game changer for us," shares Medved, commenting on the institutional money. "But we have also expanded our product mix with funds. These funds are not only good for the individual investor with the added diversification but they are also good for these institutions."
It is this duality of more products and bigger money that is fueling OurCrowd's growth to a billion dollars and beyond. OurCrowd should soon be the largest investment crowdfunding platform in the world.
[clickToTweet tweet="It is this duality of more products and bigger money that is fueling OurCrowd's growth to a billion dollars and beyond #Crowdfunding" quote="It is this duality of more products and bigger money that is fueling OurCrowd's growth to a billion dollars and beyond #Crowdfunding"]
Today, OurCrowd has 13 different funds that target investment verticals by sector, geography and stage. At the Summit, several of these funds were presented including the $100 million AI focused Cognitiv Fund or the $50 million sports-tech focused fund, ADvantage, created in conjunction with with leAD Sports, a global sports tech accelerator backed by the Adi Dassler Family Office (ADIFO – think Adidas).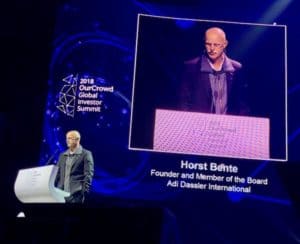 I asked Medved if he ever thought of listing a fund on a regulated exchange. He said they were not ready for that but obviously it has come up in conversation at some point in the past. Medved would like to make his platform offerings available to non-accredited investors and this could be a path that facilitates this goal.
Regarding the burgeoning cryptocurrency market Medved believes digital assets could be game changing but OurCrowd is very careful in what they do and are super strict when it comes to global compliance. OurCrowd has made several investments in the cryptocurrency sector but they want to have everything lined up when they push further into the digital assets realm.
"We are very, very conscious as to what the regulators think," shares Medved.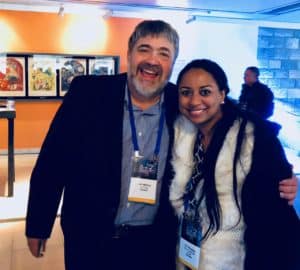 Like many peopled engaged in the financial services world, Medved is very convinced that Blockchain, specifically enterprise iterations, will be huge.

Medved clearly enjoys the social nature of his position and the people around him respond in kind. His global travels espousing the benefits of entrepreneurship have made him a well recognized unofficial ambassador for Israel as a center of innovation excellence.

I asked him if he every thought of running for public office at some point in the future.  Medved gave a definitive no with a glimmer in his eye.

Sponsored Links by DQ Promote