Q2, a Texas-based digital banking solution provider, announced on Thursday it has signed a multi-year agreement with Acorns, the financial services platform that has transformed saving and investing for more than 3 million customers. According to Q2, the deal is centered on the company's Open portfolio, which is described as a set of open-API financial services technologies.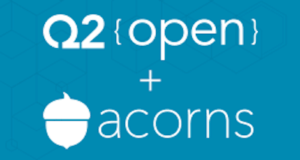 Founded in 2004, Q2 reported it connects users to their account holders, who expect and appreciate a unified and engaging banking experience anytime, anywhere, on any device.
"We merge business-critical technology with an engaging user experience, helping you engage account holders where they live, work and play. By leveraging virtual banking software across our single, non-siloed  technology platform, you can deliver unified online, voice, mobile and tablet banking services from a single secure application — and compete with the best that Mega banks and money centers can offer."
Speaking about the company's development and growth, Matt Flake, CEO of Q2, stated:
"Our industry's landscape is evolving, and traditional financial institutions and new entrants alike need new technology to build modern financial tools. We believe many fintech companies and traditional FIs share the goal of strengthening their communities, and we're excited to provide them a common set of technology they can use to deliver on their respective missions."
Q2 then added its Open program is comprised of multiple open-API technologies that allow development-capable organizations to build front-end financial products and experiences.