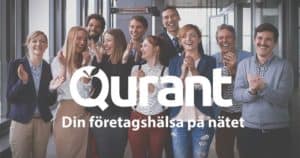 Nordic Tech House and FundedByMe have launched a new collaboration with their first joint venture with Qurant, an enterprise within the digital healthcare business. Both companies strongly believe that Qurant can change the future landscape for occupational health care.
The equity crowdfunding campaign launched on the 28th of February and will be open for 45 days. The pitch describes the business opportunity:
Qurant is Sweden's first digital occupational health care specifically aimed at lowering sick-leave. We handle all notifications of illness through our app and then connect the employee with the proper care-provider, quick and easy. Through getting the correct treatment immediately sick-leave can be reduced by up to 40% – something that can save large sums, both for the employer and their employees. 1,5 Swedes are currently lacking corporate healthcare. Qurant aims to tie up a large portion of that market.
Opened to public investment just yesterday, Qurant is already over-funded at 156%. Details are available for registered users.
Daniel Daboczy CEO and Founder of FundedByMe commented on the campaign;
"We share the philosophy behind Isabella Löwengrip's Nordic Tech House and have been looking forward to present the first case together. The team behind Qurant operates in a very exciting market with high potential for growth, one that is also in need of innovation. This is the first partnership of many between Nordic Tech House and FundedByMe."
Viktor Lundqvist, CEO and founder of Nordic Tech House, explained that Nordic Tech House helps companies accelerate their digital growth. FundedByMe helps to provide the necessary investment;
"For us, this is really interesting, partly because we stubbornly believe in the digital transformation of health care, but also for the incredibly exciting data collection we can do. When the service scales in terms of users, we will be able to track how the most common diseases are spread and in real time be able to tell how to avoid getting infected. This will provide us with the tools needed for achieving Qurant's vision of reducing sick leave by 50%. "
Both parties see great potential in Qurant and will now actively work for the company's continued development. The health company's ambitious goal is to cut sick leave in half through a two-part focus: employee health and challenging companies to become healthier. Sick-leave cost the employer an average of SEK 31,000 per employee per year. In addition to the cost, the process itself is often unnecessarily cumbersome, with a lot of manual work having to be done. With Qurant's service, this is automated through smooth handling of notification of illness and health reports on mobile, tablet or computer through a health portal.
Qurant's nurses put the employee in touch with the right health-care provider without any waiting time. The service is being developed continuously and during this year, they will also launch a free-of-charge service together with Nordic Tech House. Growth goals are aggressive and you are therefore generally invited to take part in expansion.
"During our years in the industry, we have seen a clear need to change traditional occupational healthcare. Surveys show that sick leave increased during 2017 and more importantly that 40% of it can be avoided through quick access and the right targeted efforts. At the same time, 1.5 million Swedes are without occupational health care. Qurant, Sweden's first innovative digital business health, intends to take a significant part of that market, " added Maria Schützer Funk, CEO and founder of Qurant.
Have a crowdfunding offering you'd like to share? Submit an offering for consideration using our Submit a Tip form and we may share it on our site!

Sponsored Links by DQ Promote