Pockitapp, a new mobile fintech app that lets consumers immediately convert the change from cash transactions and sends it to their phone, is now available to retail and food establishments in Orlando, Florida. Founded in 2016, Pockit's mission is to convert physical change into digital currency at the cash register. The app was built by development partner BOLD! Technologies. It can be integrated into their existing POS, or operate as a standalone and run in parallel.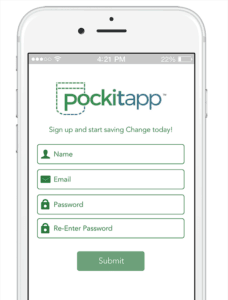 The company stated:
"Recognizing the engagement and convenience Pockitapp provides, some popular names in local retail and quick service establishments are piloting the transactional service. Among progressive local merchants involved in the Orlando-area pilot are Brownierie, Farris and Fosters, Hummus House, Small Cakes of Winter Park, and Tea & Tea. Pockitapp is ideal for establishments where an average ticket price is $20 or less."
The creators also noted that through the app users can convert that pile of spare change into digital currency, immediately, and then convert it into real and meaningful rewards that add value to their change. Steve Shamrock, Pockitapp Co-Founder, stated:
"I've had businesses in Central Florida, been involved in a start-ups and always had a love for technology. Orlando is growing in the fintech arena and Pockitapp is a real game changer in mobile payment tools. We've got some traction in Silicon Valley, partnering with a major POS distributor, but it's been the support of the Florida high-tech corridor that gives us our roots."
Pockitapp is now available through Goggle Play and iTunes.