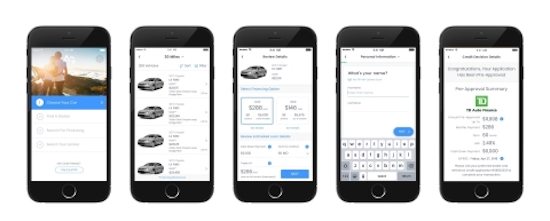 AutoGravity, a fintech provider modernizing the way consumers buy and finance automobiles, announced on Tuesday INFINITI Financial Services has joined its automotive shopping and financing platform. According to AutoGravity, consumers will now be able to select any INFINITI vehicle and see finance offers from IFS within minutes on their mobile device. Speaking about the new partnership, Randy Parker, Vice President of INFINITI Americas, stated:
"Customers shopping for an INFINITI are looking for luxury and sophistication in a high-technology package. Utilizing AutoGravity's cutting-edge technology is a major step in connecting digitally-savvy consumers with the best loan and lease options for their next INFINITI."
AutoGravity describes itself as the next evolution in digital retailing and financing. Its app guides automotive shoppers through an intuitive four-step car-buying process:
Select any make and model of any new or used car available in the U.S.
Browse thousands of cars by trim, color, body type and other attributes. The platform shows the closest retailers and inventory based on vehicle preference and geo-location.
Search for financing with smartphone simplicity. Users can scan their driver's license and connect to social media to quickly pre-fill the application.
Receive up to four personalized finance offers and complete the purchase or lease at the retail store in minutes.
Andy Hinrichs, Founder and CEO of AutoGravity, also commented:
"AutoGravity technology gives the customer control over their car shopping and financing journey. Our partnership with INFINITI Financial Services helps customers save hours by providing them with access to indirect loan or lease offers in the palm of their hand."
AutoGravity went on to report that more than 1.5 million consumers have downloaded its mobile app since it launched in the summer of 2016 and has collectively requested over $2 billion in financing. AutoGravity's platform is available across the U.S. and IFS financing options are currently available on the mobile app in California and will be available nationwide in mid-2018.