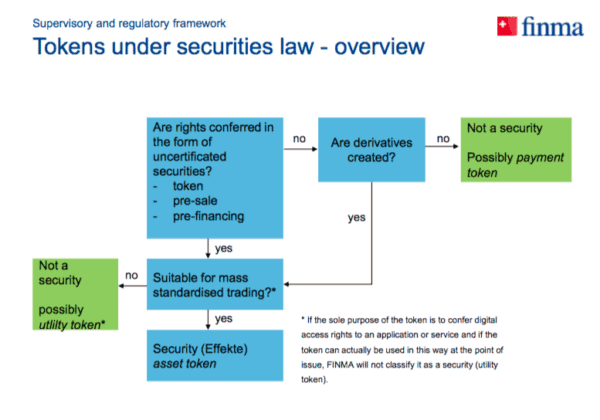 The Swiss Financial Market Supervisory Authority (FINMA) has published a deck on initial coin offerings. FINMA has scheduled a series of roundtable meetings in collaboration with the Swiss Crypto Valley Association. The first Roundtable took place last week in Zug, Switzerland. In February, FINMA issued a clarification of sorts regarding the regulatory status of ICOs noting its intent to foster innovation and support the nascent industry that has bloomed in the Alpine nation.
The presentation by FINMA is interesting has it provides additional insight and color into their approach and thought process regarding tokenized securities and utility tokens. FINMA states that it will "push for the removal of unnecessary regulatory obstacles for innovative business models while having zero tolerance for criminal behavior.
As previously published, FINMA sees tokens in these categories:
Payment tokens: (cryptocurrencies) give rise to no claims on their issuer. They are intended to be used, now or in the future, as a means of payment for acquiring goods or services or as a means of money or value transfer.
Asset tokens: represent assets such as a debt, equity or other claim on the issuer, e.g. a share in future company earnings or capital flows. In terms of their economic function, these tokens are analogous to equities, bonds or derivatives. Tokens which enable physical assets to be traded on the blockchain also fall into this category.
Utility tokens: provide access digitally to an application or service by means of a blockchain-based infrastructure at the point of issue.
FINMA notes that classifications may change over time and it is possible for a token to be a hybrid.

Regarding SAFTs or pre-financing / pre-sale phases of an ICO which confer claims to acquire tokens in the future, these claims will also be treated as securities.

For Utility tokens, FINMA states that these are intended to provide access digitally to an application or service by means of a blockchain-based infrastructure and can be used this way at the point of issuance.

Regarding payment tokens, FINMA states:

"Given that payment tokens are designed to act as a means of payment (i.e. for the purpose of acquiring goods or services or as a means of money or value transfer) and are not analogous in their function to traditional securities, FINMA will not treat payment tokens as securities."

FINMA says that new case law or legislation could change this definition. Thus, it appears that unlike the US Securities and Exchange Commission the Swiss believe in the existence of utility tokens.

Sponsored Links by DQ Promote