Candex, a California-based enterprise payments processor, announced last week it secured $3.5 million in seed funding from  Edenred Capital Partners, Partech Ventures, Advisors.Fund, Camp One Ventures, NFX, Tekton Ventures, Big Sur Ventures, and Mark Goines. As part of the round, Goines has joined Candex as a new board member.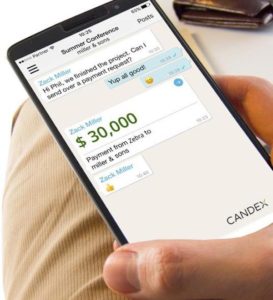 Founded in 2016, Candex states its collaboration apps manages payments between companies and their vendors. The company claims to be an easy way to engage, track and pay for business services under $100,000. 
"Blockchain technology benefits are realized with phenomenal ease of use, speed, and security. Our solution is trusted by Fortune 500 leaders like BP, First Data, and Pfizer. They fulfill all of their control and reporting requirements, while users are able to execute transactions in a chat interface."
Candex Co-Founder and CEO, Jeremy Lappin, stated:
"It is amazing how much time and effort gets wasted when a typical organization tries to work with small vendors. Candex brings the speed and ease of consumer payment apps to large businesses, leveraging a private blockchain to ensure compliance and massively streamline financial system records."
Philip Bodell of First Data also commented:
"Candex fulfills stringent compliance requirements while also providing value to line managers. Their demonstrated success serving many companies, including our own, is a key reason we invited Candex to join the Commerce.Innovated program."
Goines then added:
"The Candex eMarketplace approach is a brilliant solution for the tail spend needs of today's enterprise, and this financing is perfectly timed to enhance the company's leadership position."
The funds will be used to continue Candex's expansion.