Spotcap, an SME focused online lender based in Berlin, announced on Tuesday it has opened applications for its Fintech Fellowship. According to the lending platform, this program offers a £8,000 award to a postgraduate student studying a fintech related course at a UK university. Applications will be open for four months and close on August 1st.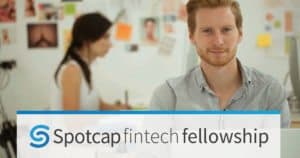 Spotcap reported that the fellowship was launched last year in order to raise awareness of the fintech talent gap and to encourage industry stakeholders to get involved in addressing the skills shortage. A total of Forty-two universities from across the UK supported the program and the first winner was Mohammed Hussan, who is using the award to support his MSc in Computer Science. Hussan stated:
"Seeing positive collaboration between groups of talented entrepreneurs and established financial institutions really inspired me to apply. I believe it is a game-changer."
Spotcap claimed that the fintech industry is among the fastest growing sector in the UK with higher than average growth expected. Niels Turfboer, Spotcap's managing director, also commented:
"The possibility that access to skilled workers from Europe will be reduced after the UK leaves the EU in March 2019, has put talent on everyone's radar. The fintech sector, academia, and the government are all trying to find ways to plug the growing skills gap, but we can achieve more if everyone collaborates with each other."
The judges of this year's program are the following:
Marilena Ioannidou: Director & Team Lead on Fintech Investments, British Business Investment
Stephen Ingledew: Chief Executive, FinTech Scotland
Elizabeth Lumley: Global fintech commentator and advisor
Tanya Andreasyan: Managing Director and Editor, FintechFutures/Banking Technology
Niels Turfboer: Managing Director, Spotcap
The program is set to start in September/October 2018. Applicants must submit a resume and a cover letter that answers the question "What sparked your interest in fintech?" They may submit a written response (500-word limit) or upload a short video (up to 3 minutes).