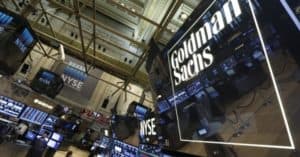 Goldman Sachs is not just embracing Fintech change in digital banking with leading online lender Marcus but the global investment bank is adding names to its long rumored cryptocurrency trading desk. Meanwhile, other big banks continue to stare and wonder why.
Tearsheet has reported that Justin  Schmidt will lead Goldman's foray into the land of digital assets. While some naysayers continue to denigrate the cryptocurrency world, Goldman sees opportunity and they are matching money with the growing demand to help clients navigate investing in digital currencies.
Schmidt's LinkedIn profile lists his most recent "experience" simply as Crypto. But Schmidt has the quant skills necessary to hep power Goldman's crypto desk as he has a couple of degrees from MIT.
The report quotes Tiffany Galvin stating;
"In response to client interest in various digital products, we are exploring how best to serve them in the space. At this point, we have not reached a conclusion on the scope of our digital asset offering."
To translate the reporting company bankspeak: Goldman is saying they are going big into crypto because volatility rules, traders love it, and there is huge institutional demand.
Same as it ever was.