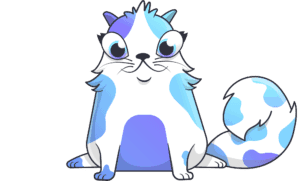 CryptoKitty talent managers may soon be able to trot their cats into a "a social media parallel universe" for discreet marketing through cartoon avatars, thanks to Userfeeds.io.
Userfeeds.io co-founder Maciej Olpinski announced in a blog post at Medium March 30th that they are now casting CryptoKitties and other cute characters built from Ethereum ERC721 tokens to participate in pay-to-play rehearsals on a testnet.
The Userfeeds company is one of a number proposing token-incentivized social media platforms aimed to both enrich creators and disrupt market dominance by Youtube, Facebook and others. These platforms require users to buy and then pay digital tokens to participate, whereby they may then receive tokens from advertisers for discreetly endorsing products on the sites during the normal course of "socializing" on the platform.
In the case of Userfeeds' proposed platform, CryptoKitty avatars may also also be awarded tokens by thrilled users upvoting, endorsing, liking, or simply "making it rain" on them.
Despite these dynamic means of incentivizing approval, it is worth considering whether such a commercially-focussed platform will create a stale social "ecosystem" as it were.
We shall see. Cartoons probably do have underestimated social potential.
Userfeeds.io envisions a lot of product endorsement potential for crypto-based characters that develop their fame on its platform, fame they might extend out into the web and real world by "embedding" or using their characters' guises to adorn ad widgets, say, or in the best-case scenario, maybe a cereal box!
Olpinski says he sees the model of seeking to verify real human users on Facebook as "broken," and that bots emitting automated content through fake user profiles, "(are) the new normal," and are netizens of the highest tier.
Rather than fighting bot-generated content, Maciej writes, Userfeeds believes, "We need platforms where bots are first-class citizens that compete for attention and reputation on equal terms."
But don't worry: you can check that it is actually your favourite cat telling you to buy something. Userfeeds.io will make up for being the most advertising-indiscriminate "social media" platform by making it possible for users to check the Ethereum blockchain to make sure a CryptoKitty spokesmodel is authentic and not some imposter.
"In a world of 'fake news' and misinformation being spread on social media, cryptographically verifiable messages coming from digital cats could become a preferred form of communication," says Olpinski.
LOL?
The fact that upvoting could easily be gamed by an advertiser with deep pockets of tokens, or the founders, say, if they vest themselves handsomely in the ICO, could create an even higher level of advertisers' paradise on the platform.
"Such universes will be both fictional and real at the same time," writes Olpinski, sounding as if he hopes many Kitty-gaga users won't be able to tell the difference.
Maybe Olpinski, a former marketer at Google, is just taking it up a notch:
"(Such universes) will be fictional because all avatars are essentially sock puppets controlled by someone else. But the economics of money, reputation and attention within these universes will be as real as on the existing social media."
Sponsored Links by DQ Promote