Coinme, a financial services and blockchain technology company, announced on Thursday its latest deployment of eight new crypto ATMs in the state of California, bringing its total locations in the state to 23 ATMs.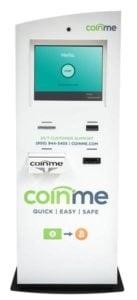 The company stated it offers Californians the ability to easily and instantly buy or sell cryptocurrency, and take advantage of its seamlessly integrated digital wallet and exchange services. Coinme claims it established the first crypto ATM in the U.S. in 2014 and plans to expand its network across the country and the world, with more than 50 locations to date. The new locations for Coinme's ATMs are Bay Area, Fresno, Los Angeles (3 ATMs), Palm Desert, and San Diego (2 ATMs). Speaking about the ATM expansion, Neil Bergquist, Co-Founder and CEO of Coinme, shared:
"We are dedicated to bringing the best of the cryptocurrency economy to the diverse population of California and the world. In addition to a large technical community that appreciates the digital, decentralized qualities of crypto, there is an unbanked population who can now use Coinme as an onramp to participation in the financial system."
Coinme noted that it also offers a vertically-integrated digital wallet, digital exchange, and crypto investment services, including IRA and 401K plans, to make it easier to participate in the crypto economy. Coinme added its crypto ATMs offer a unique benefit over online exchanges, the ability to buy and sell Bitcoin and other cryptocurrencies instantly.