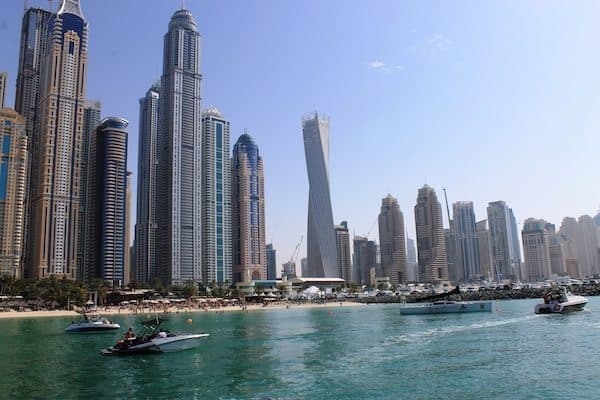 On Tuesday, the Department of Economic Development (DED) in Dubai and Dubai Silicon Oasis Authority (DSOA) unveiled a joint blockchain project that was developed in collaboration with Smart Dubai and IBM to improve ease of doing business in Dubai and facilitate foreign direct investments.
According to the organizations, this joint initiative, called Dubai Blockchain Business Registry Project, is aligned with the Dubai Blockchain Strategy, launched in 2016 by His Highness Sheikh Hamdan bin Mohammed bin Rashid Al Maktoum, Crown Prince of Dubai and Chairman of the Executive Council of Dubai, seeking to establish Dubai as the first city to be fully powered by blockchain by 2020. DED and DSOA also reported that the initiative seeks to empower the Unified Commercial Registry (UCR) project, the first blockchain-enabled trade license repository launched by DED, to store and update company registration information issued by DED as well as the free zone authorities in Dubai. Sami Al Qamzi, Director General of DED, stated:
"The Unified Commercial Registry is a foundation for the business ledger, led by the Department of Economic Development to usher in the future of business in Dubai, UAE and the world. With the Blockchain Corporate Registry, investment as well as doing business in Dubai will become a seamless and smart experience, and testimony to successful innovation."
"The Blockchain Corporate Registry provides a template for collaboration between government departments, government-related entities and the private sector to reinforce Dubai as a hub for business expansion and entrepreneurship. We are delighted to welcome the Dubai Silicon Oasis Authority on board as the first free zone entity to integrate DED's business ledger. DED always seeks to integrate the latest technologies for added competitiveness and customer happiness across services in Dubai." 
Dr. Mohammed Al Zarooni, Vice Chairman and CEO of DSOA, also commented:
"As the UAE continues its transition to a digital economy, DSOA takes pride to become the first free zone to implement this blockchain project. This achievement is the result of our relentless efforts to build synergies that leverage the strengths of diverse public and private sector partners to fast-track Dubai's journey to becoming one of the smartest cities in the world. The Dubai Blockchain Corporate Registry Project is a prime example of such collaboration at work."
The organizations added that the IT Department in DED conducted extensive research and case studies with vendors to explore the best alternatives and options that help secure information, support open data and enable paperless processes in preparation for the Dubai Blockchain Corporate Registry.