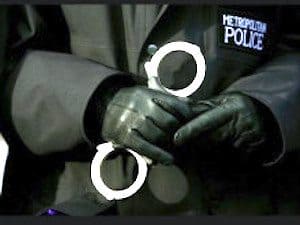 In what is being lauded as Scotland Yard's first successful prosecution of cybercrime, a British hacker has been convicted of multiple charges related to the theft of millions of people's personal data.
Grant West, 26, was arrested in the first class section of a passenger train traveling between London and Wales last year.
An undercover agent seated next to West reportedly waited for West to log into the Dark Web before signalling other officers to move in.
Multiple publications have reported on the surveillance footage from the train that shows passengers applauding West's arrest.
Police reportedly investigated West for two years prior to his arrest and found evidence he had attempted to attack over 1000 companies, including Groupon, Coral Betting, Uber, the British Cardiovascular Society, Mighty Deals Limited, T Mobile, a Finnish Bitcoin exchange, and British retailer Argos.
The Daily mail also reports that police alleged West obtained the email addresses of 165,000 individuals and used fake "phishing" emails to solicit personal data from them. The attack reportedly cost the company Just Eat £200,000 to fix.
The Daily Mail also reports that officers found West in possession of an additional, "78million usernames and passwords and 63,000 credit and debit card details stored on an SD card in his caravan."
Police also claim that West made, "at least 47,000 sales of data through the dark web," where users operate anonymously and largely untraceably.
At a January talk on cybercrime at the University of Toronto, forensic cyber security analyst John Daniele stated that volumes of stolen personal data are purchased by foreign governments in dark marketplaces. Governments, said Daniele, may sit on this information for years before acting.
West is said to have lived lavishly on the proceeds of his crimes. The Daily Mail report that he drove a £40,000 Audi A5 coupé and "splashed out" on shopping trips and a trip to Las Vegas.
Police found and seized $700 000 worth of Bitcoin stored on West's laptop.
Grant West will be sentenced May 25th. West's girlfriend, Rachel Brookes, "admitted unauthorized use of computer materials" and was sentenced to two years' community service.
---