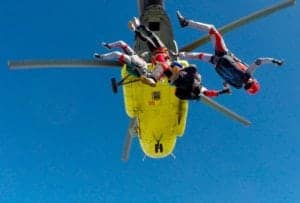 A couple of months back, CoinList announced a new stand alone feature to power compliant Airdrops for initial coin offerings (ICOs). Airdrops have become a super popular method to reward supporters, or just provide a more disperse group of potential users of utility tokens. Being compliant with regulators is important, as we know. CoinList has just announced a partnership with DFINITY who will be using the CoinList Airdrop platform to distribute a whopping $35 million worth DFINITY tokens to hundreds of thousands of community members.
CoinList stated;
"DFINITY is a model project not only for their technology and community, but also for their focus on doing things the right way. We couldn't be happier to be partnering with them."
DFINITY is building a new type of public decentralized cloud computing resource. DFINITY is a company that seeks to enable services created on the public blockchain to be incorporated by private networks. DFINITY received a significant investment of $21 million earlier this year including backing from Polychain Capital and Andreessen Horowitz. DFINITY has also launched a $40 million "DFINITY ecosystem venture fund" to support teams building on the DFINITY platform. A private pre-sale of tokens is currently underway and is set to raise an additional $90. This will bring total platform and ecosystem funding close to $200 million.
The DFINITY team is rewarding their community to "give back to those who have been supportive of their efforts." If you are interested, you may be able to participate in the Airdrop via the CoinList platform (non US residents only).
DFINITY says it hopes to promote wider distribution of their tokens and ensure more experimenting with their "WebAssembly-enabled Internet Computer.
The KYC / AML process starts tomorrow if you are queued up to receive some DFINITY tokens. You can read more about the offer here.