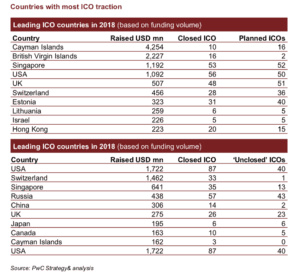 A new collaborative report by PwC Strategy& and the Crypto Valley Association provides an update on the global initial coin offering (ICO) market. According to their numbers, ICOs have grown dramatically during the first 5 months of 2018 with 537 ICOs, successfully raising $13.7 billion. This amount is greater than all the ICOs combined since 2018.
Daniel Diemers, PwC Strategy& Fintech Leader Switzerland, Head of Blockchain EMEA, said going forward this report will continue to track the changes and developments in the industry as it undergoes continuous expansion and substantive change.
The report says that since November 2017, multiple large ICOs have entered into the top 15, dwarfing previous records. Topping the list are EOS with its whopping $4 billion offering and Telegram that easily raised $1.7 billion.
The continued global #ICO growth & popularity in 2018. 537+ ICOs conducted in the first five months of 2018, raising a combined total of $13.7B – more than all ICOs which took place before 2018 combined. @strategyand @thecryptovalley
Click To Tweet
The ICO report says that Switzerland, Singapore and the US remain vital ICO hubs but in recent months the UK and Hong Kong have gained in activity. The amount of activity is "crowding out" traditional VC funding and there may be a new paradigm of a VC/PE and ICO funding path. Crypto Valley Association President Oliver Bussmann described the report as showing Switzerland as still the leading hub for ICO activity.
"To my mind, Switzerland is the standard bearer in terms of establishing a regulatory environment for the digital economy," indcated Bussman.
Regarding regulation, the document notes obviously there is "inconsistency" around the world. This will be an area of ongoing change and discussion. The US is actually be aided by its clear regulatory requirements. Switzerland leads in Europe with the UK gaining. Cayman and the British Virgin Islands have done well in volume having hosted both EOS and Telegram.
The report lists top 15 ICOs since 2016 as follows:
EOS $4.1 billion
Telegram $1.7 billion
Dragon $320 million
Huobi $300 million
HDAC $258 million
Filecon $257 million
Tezos $232 million
Sirin Labs $157.9 million
Bancor $153 million
Bankera $150.9 million
Polkadot $145.2 million
The DAO $142.5 million
Polymath $$139.4 million
Basis $133 million
Orbs $118 million
---