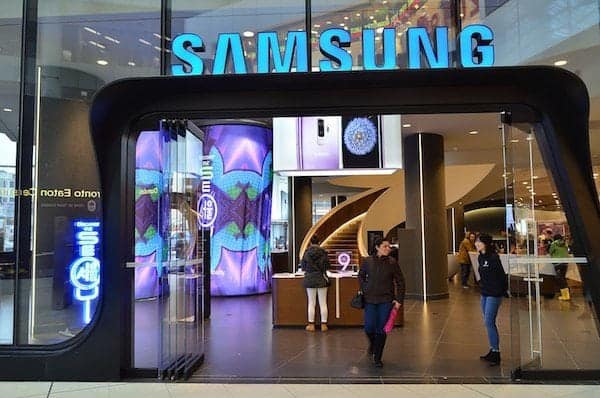 CopPay, a multicryptocurrency payment platform for businesses, consumers, and community, announced on Friday that Samsung will be using its platform to accept cryptocurrency for three Baltic States. Those living in those areas will now be able to purchase Samsung smartphones, tablets, laptop, TV-sets, and more using digital money, such as Bitcoin, Ethereum, Litecoin, Ripple, Dash, New, and Steem. 
Speaking about Samsung's decision to use digital currency, CopPay reported that there is a growing trend toward business digitalization and allowing customers to pay for goods and services in cryptocurrency, whether at global retailers or local restaurants.
Founded in 2017, CopPay stated it has created a global infrastructure that will allow cryptocurrencies as a mean of payment.
"Our goal is millions of CopPay virtual terminals installed and functioning around the world. CopPay makes it simple for merchants and service providers to become a part of growing cryptocurrency economy and attract new clients."
CopPay is notably a Cryptocurrency Payment Platform Designed for:
Small Businesses: CopPay's online solution gives access to billing form from any PC, tablet or mobile phone.
E-Commerce: CopPay's API allows any online shop to add cryptocurrency payment method.
Medium size Businesses and Retail Networks: CopPay experienced team will help to integrate our solution with existing point-of-sale systems.
Update: CopPay has since clarified their statement regarding their relationship with Samsung indicating the company will not be using their service. To quote:

"CopPay provided its solution to the Baltic premium reseller of Samsung that sells mobile phones, tablets, TVs and other products under its brand. The reseller is a separate legal entity and was exited to add an additional payment method for its customers. The official agreement was signed. We activated CopPay Payment Gates in Samsung Stores and trained personnel to show how it works, even a few transactions were made. In addition, we were preparing a mutual statement with representatives of Samsung PR division. Unfortunately, after Samsung officially announced that it doesn't have any plans for the crypto and blockchain payments, the reseller decided to suspend cryptocurrency payment method. We have all evidence of the above information and can present the proof in court.
We've never claimed that we enter into partnership with Samsung HQ. We announced about the possibility to buy Samsung products with cryptocurrencies in its Baltic stores."

The original Medium post by CopPay that first announced the relationship with Samsung has been deleted.

Sponsored Links by DQ Promote