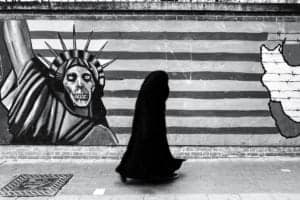 A report in Ibena from last week indicates that the US government is confiscating Bitcoins held by Iranians and the confiscation is ongoing.
According to Sepehr Mohammadi from the Iranian Blockchain Community, the US has seized 500 bitcoins or more. In May of this year, it was reported that Iranians have purchased $2.5 billion worth of cryptocurrency so the BTC confiscated is just a drop in the bucket. Mohammadi explained in the article;
"… that Iran's Blockchain Association has done necessary measures to remove bitcoin confiscation, mentioning we negotiated with some experienced attorneys who know capital market and FATF well, but no attorney has accepted this project yet, on the other hand, because of the cryptocurrencies' use ban in Iran such as bitcoin, FATA Police haven't taken an action in this case."
The US government currently has economic sanctions in place against Iran.
On May 8, 2018, the current administration re-imposed nuclear related sanctions on the country. The President issued a National Security Presidential Memorandum (NSPM) directing the US Department of the Treasury and other Departments and Agencies to take the actions necessary to implement his decision.
The US government said that it will "continue to make aggressive use of its authorities to target Iran's malign behavior."
As posted on the Department of Treasury's site pertaining to the Office of Foreign Assets Control (OFAC);
"The United States' whole-of-government strategies to combat global threats such as terrorism, transnational organized crime, malicious cyber activity, narcotics trafficking, weapons of mass destruction (WMD) proliferation, and human rights abuses include targeting an array of activities, including the use of digital currencies or other emerging payment systems to conduct proscribed financial transactions and evade U.S. sanctions. The strategies draw from a broad range of tools and authorities to respond to the growing and evolving threat posed by malicious actors using new payment mechanisms. OFAC will use sanctions in the fight against criminal and other malicious actors abusing digital currencies and emerging payment systems as a complement to existing tools, including diplomatic outreach and law enforcement authorities. To strengthen our efforts to combat the illicit use of digital currency transactions under our existing authorities, OFAC may include as identifiers on the SDN List specific digital currency addresses associated with blocked persons. "
OFAC is the financial intelligence and enforcement agency of the US Treasury Department. It administers and enforces economic and trade sanctions in support of US national security and foreign policy.
Bitcoin transactions are not anonymous but "pseudonymous". Once an address is connected with an individual or firm it traces back to all of your transactions.