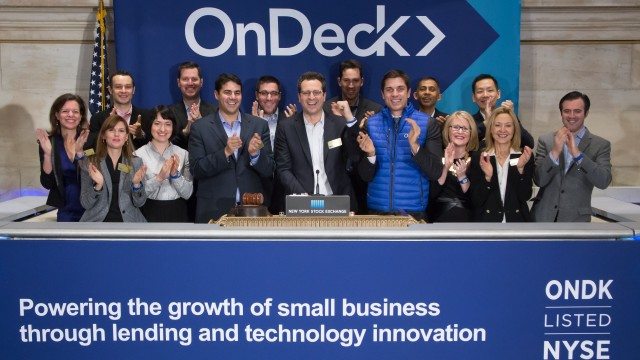 Online lending platform OnDeck (NYSE: ONDK) announced on Wednesday it closed a $175 million asset-backed revolving credit facility that consisted of funds provided by Liberty Mutual Insurance Company and certain of its affiliates, as well as funds managed by affiliates of Ares Management L.P. (NYSE: ARES). According to OnDeck, the new facility will be utilized to finance the lending platform's line of credit portfolio and may also be used to finance the company's term loans.
The credit facility's details are listed below.
| | |
| --- | --- |
| Commitment Amount: | $175 million |
| Interest Rate: | 1 Month LIBOR + 3.00% |
| Advance Rate: | 87.5% |
| Revolving Funding Period: | 3 years (ends August, 2021) |
| Maturity Date: | August, 2022 |
Speaking about the new facility, Ken Brause, Chief Financial Officer of OnDeck, stated:
"We are pleased to be working again with Ares and we welcome Liberty Mutual to our esteemed group of funding providers. This new facility adds additional funding flexibility while reducing costs, enabling us to continue providing financing that our small businesses customers need to succeed and grow."
Ron Elimelekh, Head of Capital Markets of OnDeck, also revealed that during the first half of this year the lender secured more than $400 million of new funding capacity while also lowering borrowing costs and introducing longer-term funding commitments. He added:
"This transaction demonstrates similar success and is a further testament to the strength of OnDeck's business model. Notably, proceeds from this new facility were utilized to prepay in full an existing facility financing our lines of credit, resulting in a 425 basis point improvement in cost."
These transactions were included in the financial guidance provided by OnDeck on August 7th. The closing of the lender's latest credit facility comes after OnDeck closed on two asset-backed credit facilities, totaling nearly $100 million, last month. As previously reported, One in the amount of AUD 75 million with Credit Suisse, and another for CAD 50 million with Crédit Agricole, The two facilities will finance loan originations in Australia and Canada.