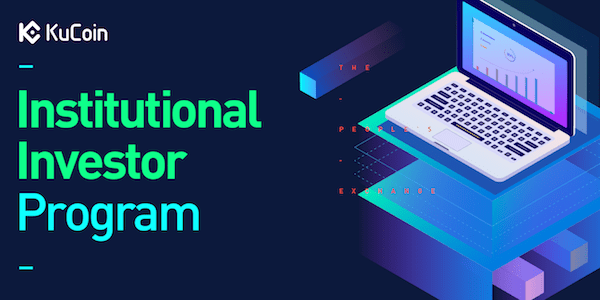 Asian cryptocurrency exchange KuCoin recently announced the launch of its new institutional investor program. According to KuCoin, the program was created in order to encourage institutional investors on its platform participate more actively in trading activities. The exchange describes institutional investors as those that participate in quantitative trading, high-frequency trading, etc. All institutions that qualify will notably receive significant trading fee discounts.
Founded just last year, KuCoin, which calls itself the "People's Exchange," reported that is the platform is easy to use for novice investors, and "in-depth enough" for crypto enthusiasts. The exchange offers a range of alt coins and is currently adding new ones regularly. KuCoin explained:
"The exchange is quick to identify up and coming coins with the best blockchain technology applications. Their ability to choose tokens that users are interested in has shot them to Unicorn Status faster than any other company in history at just 3 1/2 months as a start up reaching the 1 billion in value."
KuCoin reported that in order to qualify for the institutional investor program, applicants must complete the KYC verification process and complete the program's form. The cryptocurrency will then send feedback and results to applicants through email within five working days. KuCoin stated that all qualified institutional investors will enjoy trading fee discounts of 20% to 80%, for at least 30 days. The discounts can fluctuate up or down, based on the investor's actual trading volume over the past 30 days.
The launch of the new institutional investor program comes less than two months after KuCoin formed a partnership with fintech software platform HyperQuant. As previously reported, the partnership agreement covers numerous spheres of collaboration. The platform claims that its team experts were chosen to support KuCoin with the development of the new exchange's infrastructure and API protocol.