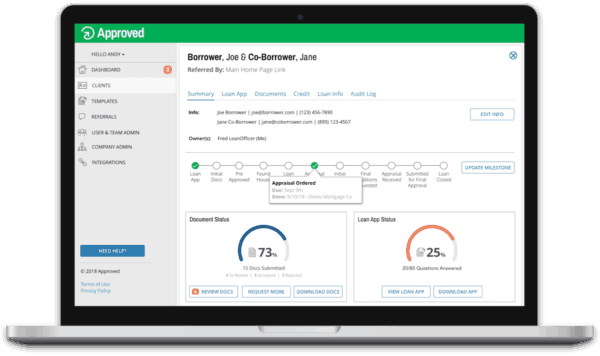 Credit Karma, a Fintech in the lending space, has acquired Approved – a platform designed to modernize mortgage lending. Details of the acquisition were not revealed.
The announcement was revealed in a blog post by Approved sharing that it would "build a consumer-facing digital mortgage experience for [Credit Karma's] 80 million members."
Andy Taylor, CEO and founder of Approved, explained;
"We started Approved with a vision that borrowers could visit an open house not having even talked with a lender, find the home of their dreams, and get fully pre-qualified on their mobile device before a listing agent offered them a business card. After all, why should they have a better customer experience buying a pair of shoes than spending $500k+ (or more) on a home they'll own their whole life? After nearly $5B in loan originations, our technology has shown major improvements in the time to get a loan, transparency in the process, and ease of loan application and doc collection. What the numbers won't show you is how we've improved the lives of thousands of homebuyers by restoring a little sanity to the home buying process."
Taylor said that working with Credit Karma will help provide the resources and scale necessary to accelerate their mission and platform.
Reportedly, Credit Karma has been sizing up the mortgage lending sector for quite some time. The acquisition of Approved was an easier path to adding a new vertical to the platform. Credit Karma has built a business model of aggregating credit offerings for "free" and then taking a small slice of the lead gen fee. The online only platform appeals to a younger generation that abhors trips to the corner bank and is leery of more traditional finance. Expect a similar integration with Approved.
Speaking with Techcrunch, Credit Karma Chief Product Officer Nikhyl Singhal, stated;
"The acquisition is just the continuing effort of saying, 'look, we're serious about taking our scale and being that trusted destination for our members as it relates to helping them with their mortgage.'"
Sponsored Links by DQ Promote