Virtual Commodity Association Schedules Inaugural Meeting for September
A group of industry participants have joined together to create the Virtual Commodity Association (VCA) with the goal of evolving into a self regulatory organization (SRO). The creation of the VCA was revealed earlier this year but a formal meeting has just been scheduled. The following companies have come together to help guide the emerging digital asset sector:
Bittrex
Bitstamp
bitFlyer USA
Gemini Trust COmpany.
The VCA has also announced an executive director. Maria Filipakis, formerly with the New York Department of Financial Services (DFS) will be leading the organization. Filipakis is said to have been instrumental in drafting the current DFS rules that oversee virtual currency regulations.
The VCA interim Executive Director will be Maria Filipakis. Ms. Filipakis was formerly an Executive Deputy Superintendent at the New York Department of Financial Services (DFS) and was instrumental in drafting the DFS rules and regulations for virtual currency.
Filipakis commented on her appointment;
"I applaud the VCA and its members in their commitment to strengthen the digital asset industry's regulatory landscape, rules for the protection of customers, and bring forth industry setting best practices and market transparency."
Nejc Kodric, Bitstamp CEO, said they are proud to be a part of the VCA and described it as another element of investor protection;
 "We believe in the value of self-regulation, which we pursued in Europe almost from our inception, and look forward to following a similar path in the U.S. Those that can't or won't comply with regulations put consumers – and their own operations – at risk."
During the initial meeting of the VCA, members will discuss guidelines for membership, establishing best practices and staffing – among other issues.
John Roth, Chief Compliance and Ethics Officer at Bittrex, said the blockchain industry must focus on protecting its customers and operating in a responsible manner to help boost global adoption;
"By working with the VCA, we can advance our shared goals of improving transparency, accountability and security across all virtual currency trading platforms. This effort will also complement our discussions with regulators and legislators about developing a long-term solution that creates a fully-compliant environment for blockchain while encouraging innovation, economic growth, and U.S. leadership in the industry."
John Roth, Chief Compliance and Ethics Officer at Bittrex, said regulations in the cryptocurrency industry continue to evolve. Roth explained that industry leaders must be a part of this conversation as they are impacted by any rules.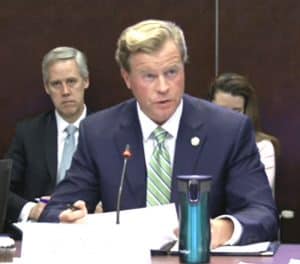 CFTC Commissioner Brian Quintenz issued a statement on the formation of the VCA. Quintenz has been vocal in the past about a need for an SRO to step into the regulatory gap that is undermining sector growth;
"Given the absence of federal oversight jurisdiction in the crypto market, in February and again in March of this year I called on the crypto platform community to come together and develop a self-regulatory organization-like entity that could develop and enforce rules.[1]  I am pleased that progress has been made on such a concept.  Ultimately, an independent and empowered SRO-like entity could have a meaningful impact on the integrity and credibility of this young marketplace," stated Quintenz. "Today's announcement is a positive step towards that realization."
The VCA seeks to adopt and follow the  following Sound Practices:
Custody – Establish custody protections and security measures appropriate for virtual commodities.
Customer Communication – Adhere to customer communication and disclosure standards that are clear, accurate, fair, and timely; members must not make promissory, false, or exaggerated statements or claims.
Transparency – Provide appropriate transparency regarding bids, offers, executions, and other relevant data to the public; adopt policies to avoid conflicts of interest.
Rules-Based Markets  – Maintain and enforce a system of marketplace conduct rules; implement policies and procedures to respond to and address customer concerns and complaints.
Cyber and Information Security – Implement and maintain current best practices with respect to cybersecurity, information security, and recordkeeping.
Surveillance – Monitor and surveil markets to detect and deter manipulative and fraudulent acts and practices.
Information Sharing  – Agree to enter into reasonable information sharing agreements for the purposes of marketplace surveillance with other members and with regulated exchanges and trading platforms that list products based on virtual commodities.
Cooperation with Regulators  – Among other things, agree to report instances of manipulative and fraudulent conduct to the CFTC and other regulators as appropriate.
Sponsored Links by DQ Promote