LavidaCoin: "Step Mother of Coin"
The Securities Commission Malaysia (SC) has issued a statement on the initial coin offering (ICO) "LavidaCoin."
According to a report in the Independent, the cryptocurrency is the creation of a controversial Malaysia socialite who is well known in the country for here battles with the tax authorities and her "excesses." Datuk Seri Vida, aka Datuk Seri Dr Hasmida Othma, LavidaCoin is in the "pre-mining" phase now offering 153 million coins at 1 LVC  to $0.66. This will be followed by a second stage in October of offering 100 million LVC at $0.85 per coin. Total supply is pegged at 766 million, according to the "whitepaper." The document states;
"Of course, if the entire $1.5 billion is raised in a single round of funding, then all three projects will be run concurrently."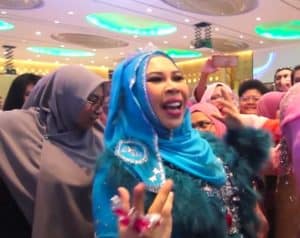 Vida gained some notoriety with a song entitled "I am Me" that has garnered over 12 million views on YouTube. Vida has promoted a "rags to riches" story due in part to successful sales of beauty and healthcare products. LavidaCoin claims a community of over 400 million social followers.
The LavidaCoin is described as the "step moth of coin" and a revolutionary ecosystem for seamless crypto and fiat investments. The offering is similar in form to many other altcoin offerings that are peppered with hyperbole and unsubstantiated claims. Alongside expectations for a private exchange, wallet and more, LavidaCoin plans a TV Channel launch in mid-2019.
The SC Malaysia statement indicated it was in the initial phases of review;
"SC has received queries on the issuance of a whitepaper for the offering of LAVIDACOIN to members of the public. The whitepaper claims that LAVIDACOIN is offered as a private funding initiative to raise development capital / funds for three projects. The paper also claims that it is only through crowdfunding that such a diverse range of projects can meet the development funding needs.
The SC is in the midst of reviewing all available information to determine whether there has been any breach of securities laws.
The SC advises investors to exercise due diligence and to be cautious of the risks of participating in any investment schemes, in particular schemes involving cryptocurrencies and digital tokens."
The SC has taken action in the past against ICOs they deemed were operating outside existing securities law. In early 2018, SC shut down the CopyCash ICO 
The aforementioned report quotes one individual declaring that the LavidaCoin "will go down as one of the worst ICO projects in Malaysia." David Low called the ICO deceptive and dubious.
LavidaCoin has created a YouTube video promoting the ICO.
---
Sponsored Links by DQ Promote