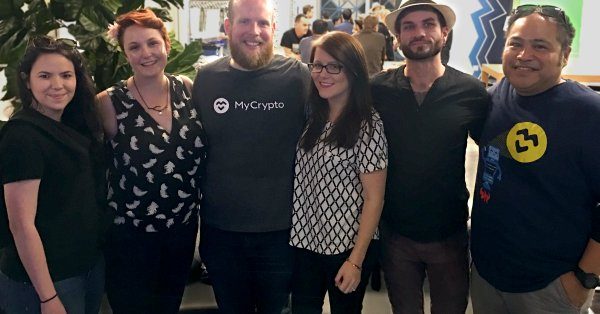 MyCrypto, "an open-source, client-side tool for interacting with the blockchain," has closed its first funding round in the amount of $4 million. The round was led by Polychain Capital. According to MyCrypto, the new funding will be used to continue building out its suite of tools that's focused on delivering a more secure, user friendly experience for anyone holding or transacting with cryptocurrencies.
So what exactly does MyCrypto achieve that merits  such funding? MyCrypto operates kind of like a bank but it is careful not to call itself that. It enables users to manage their crypto but is careful to say it is just an interface. If you lose your own crypto – sorry – they cannot help. It is not like an exchange, where you hold your digital assets, MyCrypto explains;
"If you use an exchange like Coinbase, Gemini, Kraken, Polonix, Bittrex, then you have any account with that company, and they hold your ETH and your keys for you. They have their own account on the blockchain with all their and their customers' funds in it. Then you have a username / password with them, on their servers, and they keep track of how much ETH they "owe" you."
Of course, if an exchange gets hacked than you can be in trouble. By using MyCrypto, you are 100% responsible.
MyCrypto states that currently accessing the blockchain is less than ideal. And that is what they want to change;
"we've completely re-written the codebase in React/Typescript, added a ton of new features, and launched the fully functional MyCrypto Desktop App. We also launched an open-source Monero explorer called MoneroVision—but that's not enough. These steps have laid a strong foundation for the MyCrypto platform. We need to prepare for the next wave of cryptocurrency users entering the space and help ensure they can interact with the blockchain, play with dapps, trade their coins and tokens, and do it safely, securely, and with confidence."
Alongside Polychain, Boost VC, ShapeShift, Ausum Blockchain Fund and others participated in the funding round.
Taylor Monahan, founder & CEO of MyCrypto,
"The cryptocurrency market is always changing and evolving, which can make navigating and understanding it difficult and overwhelming for both new and seasoned users. We're dedicated to designing an experience that can further simplify how people can access and store cryptocurrency and are thrilled to see the overwhelming support we've received from our partners, investors, and community."
Sponsored Links by DQ Promote