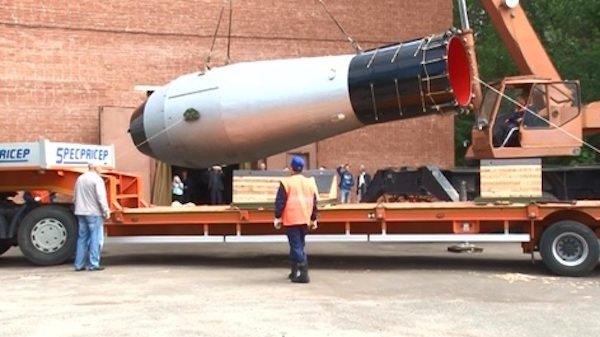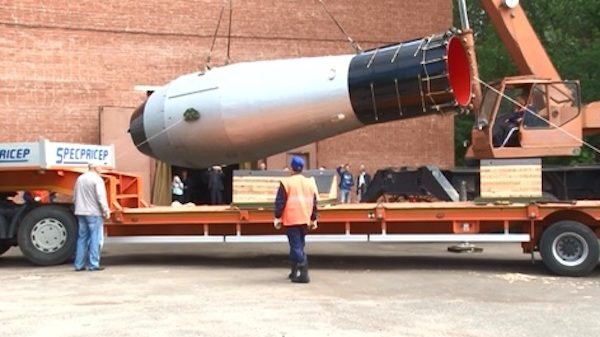 A Russian lawmaker, Vladimir Gutenev, told Russian news agency TASS  last week that Russia should consider 'an asymmetric response' to US pressure and sanctions, including deployment of nuclear weapons to Syria, suspension of missile non-proliferation treaties and development of a gold-backed cryptocurrency to help Russian arms manufacturers and other firms sidestep US sanctions.
The goal? To "offset" US sanctions and "retaliate," said Gutenev:
"I believe that now Russia has to draw its own 'red lines.' The time has come to ponder on variants of asymmetric response to the US, which are now being suggested by experts and are intended not only to offset their sanctions but also to do some retaliatory damage."
Vladimir Gutenev is the current Deputy Head of the Economic Policy Committee of the State Duma, which is the lower chamber of the Russian parliament.
Russian Politician Floats Deployment of Nuclear Weapons to Syria, Development of Gold-Backed Cryptocurrency as Countermeasures to US Sanctions
According to his official biography, Gutenev holds a doctorate in Technical Sciences and is a former Vice-President of the OOOR "Russian Engineering Union."
"It's no secret that serious pressure is being put on Russia, and it will only get worse," Gutenev told TASS.
In May, the US State Department's Bureau of International Security and Nonproliferation sanctioned six Russian defence firms/departments for trading arms with Syria and/or Iran: the 183rd Guard Air Defense Missile Regiment; the Instrument Design Bureau (KBP) Tula; the Gatchina Surface-to-Air Missile Training Centre; the Russian General Staff Main Intelligence Directorate; the 18th Central Scientific Research Institute Scientific Research Centre; and the Russian Research and Production Concern.
The "Imposition of Nonproliferation Measures Against Foreign Persons, Including a Ban on U.S. Government Procurement," also sanctioned nine Chinese individuals and companies; four Iranian individual or companies; the Syrian arm of the Lebanese Hezbollah and four other Syrian companies and/or government departments; an Egyptian company; several North Korean entities; a Turkish company and a company in the UAE.
The "non-proliferation orders" prohibit any US department or government agency from entering into contracts with, licensing for the export of controlled items or otherwise assisting the entities and individuals named in the list.
"These measures shall be implemented by the responsible departments and agencies of the United States Government and will remain in place for two years," wrote Christopher A. Ford in the orders, Assistant Secretary of State for International Security and Nonproliferation, "except to the extent that the Secretary of State otherwise may determine."
For Gutenev, these and other measures constitute intolerable attacks on the health of Russian arms and civilian industries:
"It is intended to deal a blow to defense cooperation, including defense exports. We see that the Americans now speak about the possibility of sanctions against the countries that purchase Russian weaponry…"
Aggressive countermeasures, including nuclear escalation, are in order, said Gutenev:
"We should follow the advice of certain experts, who say that Russia should possibly suspend the implementation of treaties on non-proliferation of missile technologies, and also follow the US example and start deploying our tactical nuclear weapons in foreign countries. It is possible that Syria, where we have a well-protected airbase, may become one of those countries."
Gutinev also advocated that the Russian state consider development of a gold-backed digital currency that could help Russian interests skirt US capital controls: "…(C)onducting transactions in cryptocurrencies that are linked to the value of gold…will be a very interesting option for China, India, and other states as well," he said.
At the end of May, the Indian Foreign Minister, Sushma Swaraj, said India would continue trading with Venezuela, but would not be using that country's new cryptocurrency, El Petro, because, "it is banned by the Reserve Bank of India. We will see which medium we can use for trade."
Minister Swaraj made the comments as she stood alongside her Iranian counterpart, Mohammad Javad Zarif, at a joint press conference in New Delhi.
Although India won't be using El Petro any time soon, the country will also not be accommodating "reactionary" sanctions emanating from the US:
"India follows only UN sanctions, and not unilateral sanctions by any country…We don't make our foreign policy under pressure from other countries."
India and Iran have a long history of trade relations.
French Finance Minister, Bruno Le Maire, recently told journalists that France and Germany are working on an, "independent…financing tool which would allow us to avoid being the collateral victims of U.S. extra-territorial sanctions," against countries like Iran.
The minister may have been alluded to the development of a cryptocurrency when he added:
"I want Europe to be a sovereign continent, not a vassal, and that means having totally independent financing instruments that do not today exist."
Gutenev sees his suggested measures: nuclear deployment to Syria, an end to anti-proliferation treaties, and the creation of a sovereign cryptocurrency purportedly backed by gold as combining to form, "a very serious (diplomatic) argument" in Russia's favour:
"In boxing, one cannot just dodge blows, but has to strike in response, too. Especially when all the rules have been violated and the referees – such as the WTO and other international institutions – prefer to stay silent," he said.
US President Donald Trump issued the following Tweet in April:

https://twitter.com/realDonaldTrump/status/984022625440747520?ref_src=twsrc%5Etfw%7Ctwcamp%5Etweetembed%7Ctwterm%5E984022625440747520%7Ctwgr%5E373939313b636f6e74726f6c&ref_url=https%3A%2F%2Fwww.ccn.com%2Frussian-lawmaker-suggests-gold-linked-cryptocurrency-for-arms-exports%2F

Sponsored Links by DQ Promote