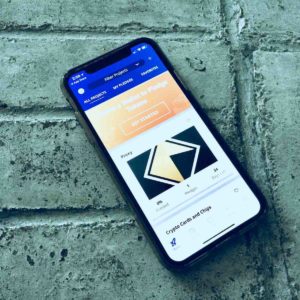 ELIX is a blockchain based platform that is crypto native seeking to provide multiple services including a crowdfunding / lending service along with a crypto wallet and payments. The ELIX coin never did an initial coin offering it simply gave the digital tokens away (about 32 million of them – so far). According to CoinMarketCap, Elix has a market cap of $1.8 million (down from over $70M at one point in time) and is currently traded on three different exchanges.
The ELIX App is available now on both iOS and Android platforms.
ELIX was co-founded by David Jackson, a Stanford grad and Melanie Plaza, a Yale alum.
According to the ELIX white-paper;
"Elixir is an Ethereum-based token, that will allow users to make payments, create/request loans, and crowdfund projects using our platform and Ethereum's smart contract technology. Elixir is superior to traditional payments, lending, and crowdfunding systems due to its trustless and immutable nature. Unlike non-blockchain solutions, Elixir is built on the decentralized Ethereum network. Blockchain implementations prevent any entity from changing users' financial information, eliminating the need for a user to trust an unknown entity with their personal assets."
The erstwhile crowdfunding platform (named Boost) seeks to provide a platform to raise funds via crypto. The whitepaper states "these funds do not represent an equity stake in any company—rather, they are funds for planned projects made by creators across the world." ELIX takes a 5% cut of any funds raised.
ELIX believes that by using their token to crowdfund the process will be self-sustaining;
"Businesses and users with ideas can use our platform to acquire funding from anywhere in the world and anonymously support projects. This eliminates the need for users to waste time looking through Bitcointalk threads, Reddit threads or Facebook pages where this information is not provided in a streamlined, reliable, or trustworthy process."
Boost claims it had its first successful crowdfunding offer at the end of August where a short film, On The Floor by Paranoir Pictures.
So what about regulation? That's a good question. Both lending and investing are highly regulated sectors of financial services. ELIX says;
"The launch of this global platform will abide by all governmental regulations. Although cryptocurrencies sometimes aim to push back from governmental and centralized control, the Elixir lending platform recognizes the importance of following regulations and standards in the lending and credit market."
There are many established crowdfunding platforms (issuing crypto as well) and tons of debt based online lenders. There are also other emerging blockchain based online capital formation platforms. At least for now, it is pretty hard to see this one getting any traction.