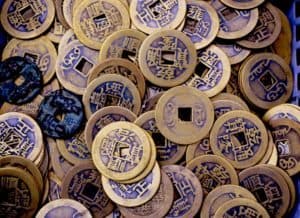 Xinhua News has confirmed that citizens in China are using various types of evasion to continue investing in ICO's and crypto despite a comprehensive ban there.
Essentially, the crackdown has pushed Chinese crypto activity underground: exchanges have moved off shore, there has been a boost in direct peer-to-peer trading on the local scene, and communications are being done surreptitiously.
Before an outright ban on crypto-trading was announced by China last September, an estimated 90% of al global Bitcoin trades were being conducted using Chinese currency.
That number dropped to around 5% after the ban, but numerous indicators suggest that tenacious Chinese traders are still finding ways to speculate on crypto, and promoters just can't stay away from he lucrative market.
Various departments of the Chinese government and several private companies with close government ties this summer ramped up their crypto-prohibitive efforts.
District governments in Beijing and Guangzhou issued circulars to local businesses stating that no crypto promotional events could be held in either city's commercial district.
Several busy Chinese crypto media outlets had their social media accounts taken down, and government internet censors announced they'd be ramping up their efforts to block citizen's access to 120 overseas crypto exchanges.
WeChat Pay and AliPay, which both claim to service about a half-a-billion users, both issued strongly-worded releases stating they would be "intercepting" and "close(ly) monitoring…individuals and websites suspected of trading in crypto."
But what appeared at first to be a widespread "shutting down" of local crypto exchanges was more accurately an offshore relocation. Many of the affected exchanges are now operating out of Malta, says Xinhua, and Chinese citizens are using VPN's to access the offshore exchange's websites, where English landing pages quickly lead to Chinese trading interfaces.
Crypto media sites are also continuing to do business, says Xinhua, and are having no problem charging ICO projects 1 bitcoin for extensive coverage or around 1000 yuan for a one minute video featuring the project.
ICO and crypto projects are also using Telegram to communicate directly with "believers," says Xinhua.
At a business incubator in the Haidian District of Beijing, an ICO promoter described the "new ecology" of ICO investing in China.
His first move was to set up a foundation abroad; the project then began selling its white paper on "Taobao," a promotional document stocked with photos of foreign faces, for 40 000 RMB.
The Xinhua story uses the expression "cutting down the chives" or "harvesting leeks" to describe scalping naive and newbie investors in crypto.
The Chinese crypto-speculations scene is evidently full of sage slang used to disguise communications online.
According to Quartz magazine, Bitcoin is commonly referred to as "Big Pancake." Bitcoin cash is "little pancake."  Ethereum and Ethereum Classic are "Big Concubine" and "Little Concubine." Litecoin is "Spicy Stripe."
A "boss" is a whale investor trading big positions; an "old leek" is, "a longtime retail investor who routinely gets burned by whales over time."
An "auntie" or "bitcoin grandma" is an aging (female) investor, "hungry for new assets but lack(ing) basic investment knowledge and skills."