Samoyed Holding Limited, a China based Fintech, has filed to trade shares on the New York Stock Exchange. Samoyed is one of a growing number of Chinese Fintechs seeking a listing on a US exchange. The Form F-1 has been filed with the Securities and Exchange Commission (SEC) and it is available here. The initial public offering is presently seeking $80 million underwritten by Morgan Stanley, Deutsche Bank Securities and CICC.
According to information provided by a company representative, Samoyed is an online lender focusing on the consumer credit card repayment market in China. In brief, Samoyed proposes to refinance high interest rate credit card debt – potentially at lower interest rates. Currently, Chinese regulators have capped the annual interest rate consumers may be charged by credit card issuers at 18.25%.
Samoyed currently has three different products:
Credit card balance transfer – Extends credit to finance customers' repayment of their credit card bills. Credit card balance transfer represented 74.7% and 42.1% of their total loan facilitation volume in 2017 and the six months ended June 30, 2018. The APR ranges from 10.04% to 24.00% with a weighted average APR of 15.1% and 15.5% in 2017 and the six months ended June 30, 2018. Samoyed says this is lower than the APR offered by banks in China for similar products.
Cash advance – To complement their credit card balance transfer they also offer cash advance which shares the credit line with credit card balance transfer.
Credit loans –  Credit loans have a term of 3, 6 or 12 months and a larger principal amount between RMB 20,000 (US$ 3,022.40) and RMB 50,000 (US$ 7,556.20), and an effective APR ranging from 24.00% to 36.00% with a weighted average APR of 27.8% and 29.2% in 2017 and the six months ended June 30, 2018, respectively.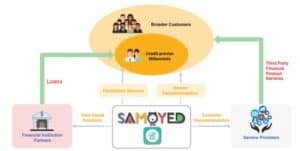 The company says it has established partnerships with 19 licensed financial institutions, including commercial banks, consumer finance companies, trust companies and micro-lending companies. Samoyed provides these financial institutions with access to consumer finance assets, while enhancing their operational efficiency and risk management capabilities. Samoyed adds that it is migrating to a "non-guarantee loan facilitation model." Under this model, it facilitates loan transactions for financial institution partners for a service fee, without taking credit risk on transactions.
Samoyed says it "strategically targets credit-proven millennials in China, especially individuals born in the 1980s and 1990s who already have credit cards." Samoyed claims its registered users reached 17 million by the end of 2017 and further increased to 24.4 million as of June 30, 2018.
Samoyed reported a net operating revenue of RMB 53.0 million in 2016 to RMB 240.4 million (US$36.3 million) in 2017, representing a 353.5% increase. Net profit was pegged at RMB 25.6 million (US$3.9 million) for the six months ended June 30, 2018, compared with net loss of RMB 48.0 million for the six months ended June 30, 2017.
Credit card utilization in China is still relatively small when contrasted to the US marketplace. Samoyed says there is opportunity in growing their service as only 21% of the populace hold credit cards compared to 66% of the adult population in the US.
Samoyed expects to trade under the ticker symbol "SMY." The timing of the IPO is not yet clear.