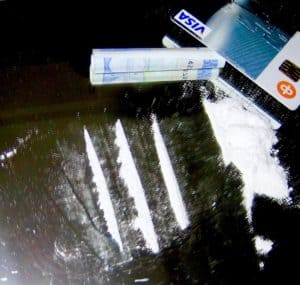 An assistant director at US Immigration and Customs Enforcement (ICE) told the Senate Caucus on International Narcotics Control this week that criminal cryptocurrency-to-cash conversions create a "vulnerability" that law enforcement can exploit.
Assistant Director-Domestic Operations ICE, Matthew C. Allen, also told the Senate Committee that ICE is ramping up resources dedicated to forensic investigation of crypto blockchains as part of its efforts to combat what he Allen emphasized is an "epidemic" of fentanyl abuse now plaguing the US.
Allen made the claims at a hearing before a special Senate Caucus on International Narcotics Control titled, "Stopping the Poison Pills: Combatting the Trafficking of Illegal Fentanyl from China."
A majority of the fentanyl being used by American addicts, said Allen, comes directly and indirectly from China, and is increasingly being sent by parcel as a boom in e-commerce shipments helps illicit parcels get lost in the crowd.
Allen dedicated two sections of his testimony to outlining anti-cyber and financial crime commentary, and said that opioids are now being purchased both on regular websites using traditional payment systems, and on the Darknet using cryptocurrencies.
According to Allen, his division of ICE:
"…conduct(s) proactive investigations that focus on the two key payment systems which support illicit procurement of opioids: money service businesses (MSBs) and cryptocurrencies. Generally, illicit opioids that are purchased on the "indexed" internet are paid for through licensed mainstream MSBs. On dark net marketplaces and other "unindexed" websites, purchases are often paid for with cryptocurrencies such as Bitcoin or Monero, among many others."
Traders of illicit goods can use all the cryptocurrencies they want, said Allen, but converting them to cash creates a "vulnerability" in the whole operation:
"Despite the pseudo-anonymity and ease of transfer exploited by the users of Bitcoin and other virtual currencies, criminals still need to convert their cash into virtual currency or their virtual currency into cash. Whenever monetary exchanges are made, a vulnerability is created."
ICE is increasing the amount of resources dedicated to cyber-crimes and relevant training, he said, in addition to pointing traditional investigative methods at the problem:
"Utilizing traditional investigative methods such as surveillance, undercover operations, and confidential informants, coupled with financial and block-chain analysis, ICEHSI is able to disrupt the criminals and dismantle the TCOs, as well as the cryptocurrency exchangers who typically launder proceeds for criminal networks engaged in or supporting dark net marketplaces."
"Legitimate" crypto users, said Allen, are happy to use "legitimate" exchanges (exchanges doing full customer identification procedures), said Allen, but criminals are not. They are forced to use peer-to-peer (P2P) trading scenarios such as LocalBitcoins and Craigslist traders, some of whom register with FINCEN, but most of whom do not, and, "Rather…position themselves as the money launderers of the virtual currency world."
But peer-to-peer trades often don't come cheap:
"One type of P2P exchanger illegally generates revenue by charging a premium for allowing their customers to remain anonymous. They will sell virtual currency above market value and buy below market value to or from those customers who want to remain anonymous."
Darknet exchange prices, however, can get cheaper when a dealer is fiat cash poor:
"These P2P exchangers will often sell their virtual currency below market value when they are rich in virtual currency, but poor in traditional currency."
Re-allocation of resources has come as cyber crime investigations and support requests from field divisions have steadily escalated at ICE, Allen told the senate committee:
"In the past year alone, the Cyber Division has observed a 500 percent increase in requests for field support….For example, in 2014, ICE-HSI conducted only 37 cybercrime investigations (not including child exploitation violations). By 2015, that number approached 100 such investigations. Today, ICE-HSI has over 600 open cybercrime investigations over 100 of which specifically target dark net illicit markets – most involving narcotics smuggling.
New types of evasion are being responded to by new types of tracking at ICE:
"Targeting these illicit P2P exchangers helps to pull back the veil of pseudo-anonymity provided by virtual currencies. Through interviews and suspect cooperation,…forensic analysis of computers, mobile phones, and other seized electronics…(and) use of advanced blockchain-tracing tools, ICE-HSI can identify other criminals using virtual currency to fund and further their illicit activities."
Additional scrutiny, said Allen, will also now be being placed on traditional money services businesses by ICE:
"Also, ICE-HSI created the Money Service Business Initiative to enable the application of advanced data analytics across large amounts of MSB data in order to isolate criminal networks, highlight suspicious transactions indicative of illicit activity, and provide predictive intelligence."
Allen said that ICE efforts to counter, "…illicit fentanyl, fentanyl analogues, and their chemical precursors…most often produced in China," has helped produce the first instance of joint cooperation against fentanyl by police in Gangzhou, China and New Orleans, USA, as well as increased recognition of the issue by Chinese authorities:
"(The Department of Justice) legal representatives in Beijing report that the Chinese Narcotics Control Commission considers this a "signature case" that significantly helped escalate the Chinese Government's understanding of the fentanyl export problem."
Sponsored Links by DQ Promote