Ping An Insurance Group announced on Wednesday it has done a full update of its Ping An Cloud. The company reported the Cloud is entering a new phase of offering cloud services to external customers.
As previously reported, Ping An is considered one of the largest financial companies in the world and has boasted 179 million customers along with 485 million internet users. The firm notably trades on both the Hong Kong and Shanghai stock exchanges. The full stack financial service firm provides insurance, banking, asset management and more. Ping An is also committed to fintech and is investing heavily to accomplish its goals.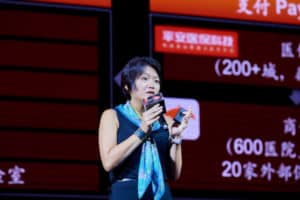 The updates for Ping An Cloud were announced at the Ping An Cloud Conference, which was themed "Building Your Smart Future." Ping An also revealed its strategic partnership with GitHub at the event. According to Ping An, GitHub will provide GitHub Enterprise products and services to China enterprises through Ping An Cloud. In the future, both organizations will explore business opportunities in diverse aspects together, to build up ecosystems in financial, educational, startup, and related fields.
While speaking about the updates, Jessica Tan, Deputy Group CEO, Chief Operating Officer, and Chief Information Officer of Ping An, stated:
"The global cloud market is surging and cloud computing is highly valued by domestic governments at all levels. The industry has evolved to a new stage of 'comprehensive digital transformation'. As the foundation of AI, blockchainand big data, while supporting its own businesses, Ping An Cloud also keeps strengthening its ability to expand."
Tan added that by incorporating internal and external partners, Ping An opens up the cloud ecosystem to serve enterprise clients in the five key industries of financial services, healthcare, smart city, real estate,  and auto services.

Sponsored Links by DQ Promote