On Monday, South Korean-based cryptocurrency exchange platform Bithumb announced it payback 70% of transaction fees for overseas users to show appreciation for the users' support and loyalty.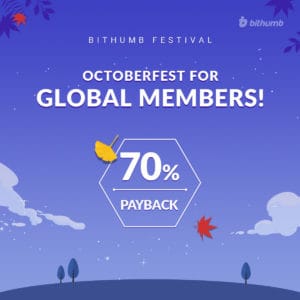 According to the platform, this event, Cryptocurrency Transaction Fee payback promotion, is being held from October 22nd to November 21st and is for the overseas users who have completed transactions over ₩1 Billion (Approx. $890,000, Bithumb cash standard) and are expecting to get payback 70% for the transaction fees incurred within this period. Transaction fees will also be refunded in order from December 10th to December 14th for five days. The event is exclusively for overseas users, not only existing users but also newly joined users are welcome to participate in.
Bithumb also reported it has been offering a 20,000 Bithumb cash for newly registered overseas members from last week if their transactions are over ₩20 Million(Approx. $18,000) based on the crypto exchange's cash standard. Speaking about the event, According to Head of Marketing Department of Bithumb, Andy Choi, stated:
"The existing one such as Bitcoin, Ethereum and Monero as well as many other cryptocurrencies are constantly being listed on the stock exchange with the huge global interest. We are glad to continue this event in October as well to reward overseas members for their support."
Bithumb claims to b the absolute leader of the cryptocurrency market in terms of daily transactions. At the end of 2017, the average daily liquidity turnover at the site is equivalent to $1.3 billion. As previously reported, Bithumb had just 100 employees last year and that number has risen dramatically to around 300 since 2018 began, but the crypto-exchange is in the midst of a hiring binge and expects to have around 800 employees by the year's end.