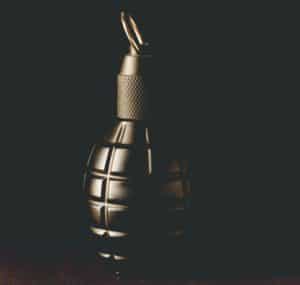 An extortionist has been contacting Amsterdam businesses by email threatening to shoot at or tie grenades to their storefronts if he or she is not paid a ransom of 50 000 Euros in bitcoins, NL Times reports.
At least one nightclub and three coffee shops on Amstelstraat (Amstel street) have received the email, and NL reports that there have been at least 20 incidents involving grenades and explosives in Amsterdam over the past year, five of which occurred in the past month:
"Last week hand grenades were found on Bijlmerplein and in front of a hotel near one of the southern entrances of Vondelpark, and an explosive was found in front of a business on Lemelerbergweg in Zuidoost. Earlier in this month a firebomb was thrown into restaurant Hotel Buiten on Sloterplas."
An additional 5 grenade incidents in Amsterdam occurred in August when several grenades were found lying streets on Amsterdam streets. A grenade also exploded at a restaurant and another at an apartment building.
A grenade also exploded in front of a home in Amsterdam on July 25th, and another was found in front of an Amsterdam cocktail bar in January.
In the threatening email, the culprit refers to the financial harm the businesses will experience if they do not comply with demands. Amsterdam city officials have typically closed businesses that have been fired upon or attacked with explosives for several months:
"You probably noticed how many entrepreneurs have had to close their doors recently by order of the municipality. To prevent you from being the next one, you must immediately take action."
The email then instructs targeted businesspeople to open accounts at  coinmama.com or coinbase.com, buy 50 thousand euros in Bitcoins there, and then transfer them to a designated digital wallet address. "After that, you will never hear from us again," says the email.
The emails also threaten to double the ransom demanded if the bitcoins are not paid within a week, and says that attacks and ransom demands will be escalated if the businesses share the threatening emails with anyone:
"If we do not receive the amount of 100k within 5 days, we will make sure that you can close your doors. This can be done by shooting a bullet into your facade or tying a grenade to the front door. If we find out that you have filed a report or shared this message with someone else, we will immediately ensure that you can close the doors for at least 3 months. As soon as you get permission again from the municipality to open your doors, we will come again unless you pay 200k."
Amsterdam nightclub Club ABE received the threatening email last month, and a grenade was tied to their door last summer.  "It could be that the same person or group is involved, but there's no clarity on that yet," co-owner Marcel Norbart told broadcaster AT5.
A lawyer for the coffeeshops, Maurice Veldman, said the businesses are not regarding the threats very gravely:
"These types of threats are not taken seriously. They are very easy to make. But we have to report this, because coffeeshops signed a covenant with the mayor, which states that they are obliged to report everything related to safety."
Veldman also said that ransoms have so far gone unpaid without further incident.
The city of Amsterdam, too, has reportedly stopped imposing three-month closures on businesses attacked by shooting or explosive.
Amsterdam Mayor mayor Femke Halsema reportedly told AT5 in September:
"We pay attention to the fact that criminals should not start thinking: if we leave a grenade in front of the door it will be closed. So we are gradually becoming more precise in the application of measures."
Sponsored Links by DQ Promote