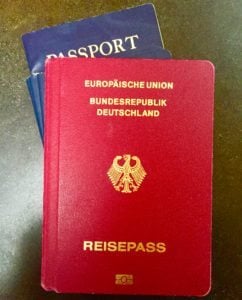 The Chief Secretary and the Head of the State Agency for Bulgarians Abroad  (SABA) along with an accused Serbian co-conspirator, have been detained by Bulgarian police and charged with selling EU passports for Bitcoins, Nova and The Times report.
According to the Times, SABA Head Petar Haralampiev has been arrested on charges of organised crime, forgery and bribery, though his lawyer, Mariana Todorova, claims prosecutors possess zero evidence that any unauthorized payments took place.
Prosecutor Angel Kanev, however, says a trail of evidence has been uncovered, including, "evidence that part of the money is transferred into a virtual currency."
Haralampiev and co-conspirators are accused of selling, "fake passports and European Union citizenship to more than 30 people a week."
Recipients allegedly included, "fraudulent applicants from Ukraine, Moldova, and Macedonia, all countries with significant minorities of ethnic Bulgarians, (who each) paid £4,445 for bogus certificates showing their family's origins in Bulgaria."
Bulgaria is part of the EU, while Macedonia, Ukraine, Albania, Serbia, and Moldova are not. According to The Times, an estimated 10 000 people have used Bulgarian ancestor claims to obtain EU passports in the past twelve months, and, "…most of those who obtained Bulgarian nationality did not settle in Bulgaria but used their new passports to travel to wealthier EU countries."
At least 114 wanted criminals have been issued EU passports in the Bulgarian-citizenship scheme, the Times claims:
"The investigation is thought to have been triggered by national outrage and calls from MPs for inquiry into how Bulgarian passports were given to 114 criminals who were being sought internationally by Interpol."
Haralampiev reportedly obtained his post after he, "was nominated…by the far-right United Patriots nationalists — part of the country's coalition government."
A former director of Bulgarian citizenship at the Bulgarian Ministry of Justice Katya Mateva, said earlier this year that the fraudulent issue of passports, "…is hidden at the highest level in the state."
The EU is also investigating the fraudulent issue of "golden passports" in the nations of Malta and Cyprus, which have both been accused of selling EU passports indiscriminately for top dollar.
"We have legitimate concerns," said EU Justice Commissioner, "because if in one country a dangerous person gets citizenship, he gets citizenship for the whole of Europe."
In previous reporting on the matter of citizenship for sale, Jourova has been quoted as citing concerns about Russian money-launderers, in particular, abusing such programs:
"It is a big concern when a Russian citizen who has worked his whole life in middle or senior management — where salaries aren't very high — suddenly has the money to buy citizenship in Malta."
The EU has also expressed concerns about "citizenship-by-investment" programs in Austria, Greece, Hungary, Latvia, Lithuania, and Portugal.

Sponsored Links by DQ Promote