Sono Motors GmbH, a Munich-based electric car startup, is revving up to surpass the €6M milestone in its most recent Seedrs equity crowdfunding campaign. At this writing, over 645 investors have plugged in funds into this overfunding campaign, surpassing €5,984,710 for 5.15% equity offered.
Electric cars have had smooth drives on the crowdfunding super highway.  FundedByMe alum Uniti has an upcoming Crowdcube campaign, while earlier this year Riversimple raised £1M+ on Seedrs.  Sondors, Dubuc Motors and Elio Motors also enjoyed successful raises.
But back to Sono Motors… some company highlights include:
– To date, 8,586 paid reservations for the Sion (partly funded by a prior €1,846,676 Seedrs round. The startup also secured €549,895 on Indiegogo in 2016 for its solarcar).
– Sion, as a technology platform, enabling car-as-a-service.
– Single product strategy, maximising carry-over-parts and -technologies.
– Engineering, design, development and commercialization by Sono Motors.
– Production and assembly to be done by a contract-manufacturer in Europe.
– Anticipated market entry in 2019 with launch in 29 target countries.
Overfunding! @SonoMotors @ Seedrs #Sion #drivenbythesun #ElectricCars #ElectricVehicles #emobility #EV #greenenergy #futuremobility #solarpower #solarenergy #crowdinvesting @LaurinHahn
Additional Sion details include solar cells integrated into the entire outside skin of the car, allowing the vehicle to recharge itself, innovative infotainment/telemetric, allowing for peer-2-peer mobility sharing and bidirectional charging unit, allowing for peer-2-peer energy sharing. The Sion doesn't require paint-shop or press-tools, due to its PV integration and and alu-space-frame.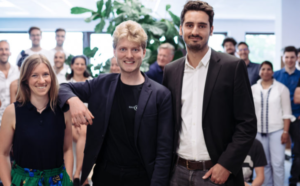 "Our goal is to become a global mobility and energy service provider within ten years, hence making a significant contribution to reducing global CO₂ emissions," explained Sono on its website. "In order to protect resources and the environment, annual vehicle production volumes around the world must be significantly and permanently reduced. Only intelligent mobility concepts, which are suitable for everyday use and resource-conserving, will enable the implementation of this vision."
Cofounded by CEOs Laurin Hahn, Jona Christians and Navina Pernsteiner, Sono Motors also touts its low complexity/low investment manufacturing, due to one-variant product strategy and system-based sourcing and flexible, innovative distribution, due to one-variant product strategy and car-connectivity. This past May, Sono partnered with established automotive supplier ElringKlinger to develop and manufacture the "Sion's beating heart" – its battery – in Germany. A partnership with Automotive Solutions Germany GmbH (ASG) soon followed, to help Sono with the development and series production of automotive lighting systems.
Fully Charged! It's Electric @SonoMotors @ Seedrs #Sion #drivenbythesun #ElectricCars #ElectricVehicles #emobility #solarpower #solarenergy #crowdinvesting @LaurinHahn
Interested in more than equity? The Sion can be preordered from anywhere in the world for €16,000, which doesn't include the battery. The company said that the battery price is excluded from this price reason in order to offer the most up-to-date price" based on the market rates for battery cells at the time of production upon delivery; the ballpark number is around €4,000.
"During the first stage, you can preorder and make a down payment on a Sion. It comes with a two-week reflection period. In the second stage, Sono Motors will offer you a contract to purchase a Sion," explained Sono regarding preordain the Sion. "Again, you'll have a two-week reflection period, during which you can cancel the contract. Your Sion will be delivered free of charge to Bremerhaven. We expect that we 'will also be able to deliver elsewhere for a fee, if desired. You can preorder from anywhere in the world while deliveries will foreseeably be limited to Europe. Test drives will be offered a Sono Motors' discretion."

Sions will initially only be delivered to Bremerhaven – free of charge, with the likely option to have the Sion delivered to one's chosen destination for an extra fee. Interested parties may preorder from anywhere in the world. Test drives will be offered at Sono Motors' discretion.

For further Sono financial details and Seedrs campaign information, please click here.

Have a crowdfunding offering you'd like to share? Submit an offering for consideration using our Submit a Tip form and we may share it on our site!

Sponsored Links by DQ Promote