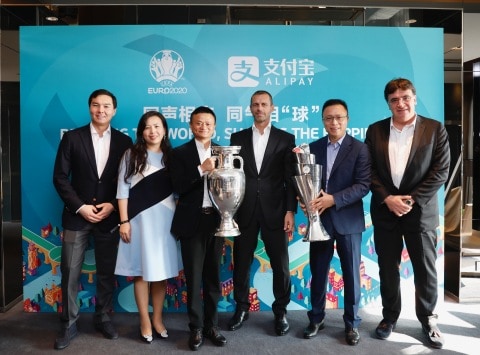 Digital payment platform Alipay announced on Friday it has formed a new eight-year global partnership for all Union of European Football Associations (UEFA) national team football competitions from 2018 to 2026. Alipay reported that it has become the official global payments partner for the UEFA and will be at all men's national team events, including UEFA EURO 2020 and UEFA EURO 2024.
While sharing details about the partnership, UEFA President Aleksander Čeferin, stated:
"We are proud to announce this unique and groundbreaking partnership with Ant Financial and Alipay for UEFA's national team competitions. Alipay is at the forefront of digital payments and in association with its global partners, Alipay has unique connections with over 900 million users. We believe the partnership will further innovate the way in which UEFA engages with football fans around the world. We will work closely with Alipay to provide a unique digital experience for the hundreds of thousands of football fans that will follow their teams during UEFA EURO 2020 across 12 countries, and in Germany at UEFA EURO 2024."
Eric Jing, Executive Chairman and CEO of Ant Financial, the parent company of Alipay, then commented:
"Alipay will offer digital payment experiences to football fans using mobile phones and other technology innovations both online and on-site. The innovation we will bring to the partnership will also allow fans to engage with their teams and show their support in completely new ways. By partnering with UEFA, we hope to share the passion and happiness of football with more people across the world and bring them the benefits of digital life."
Alipay went on to add that the partnership was established with the support of China's sports business market leader Shankai Sports.