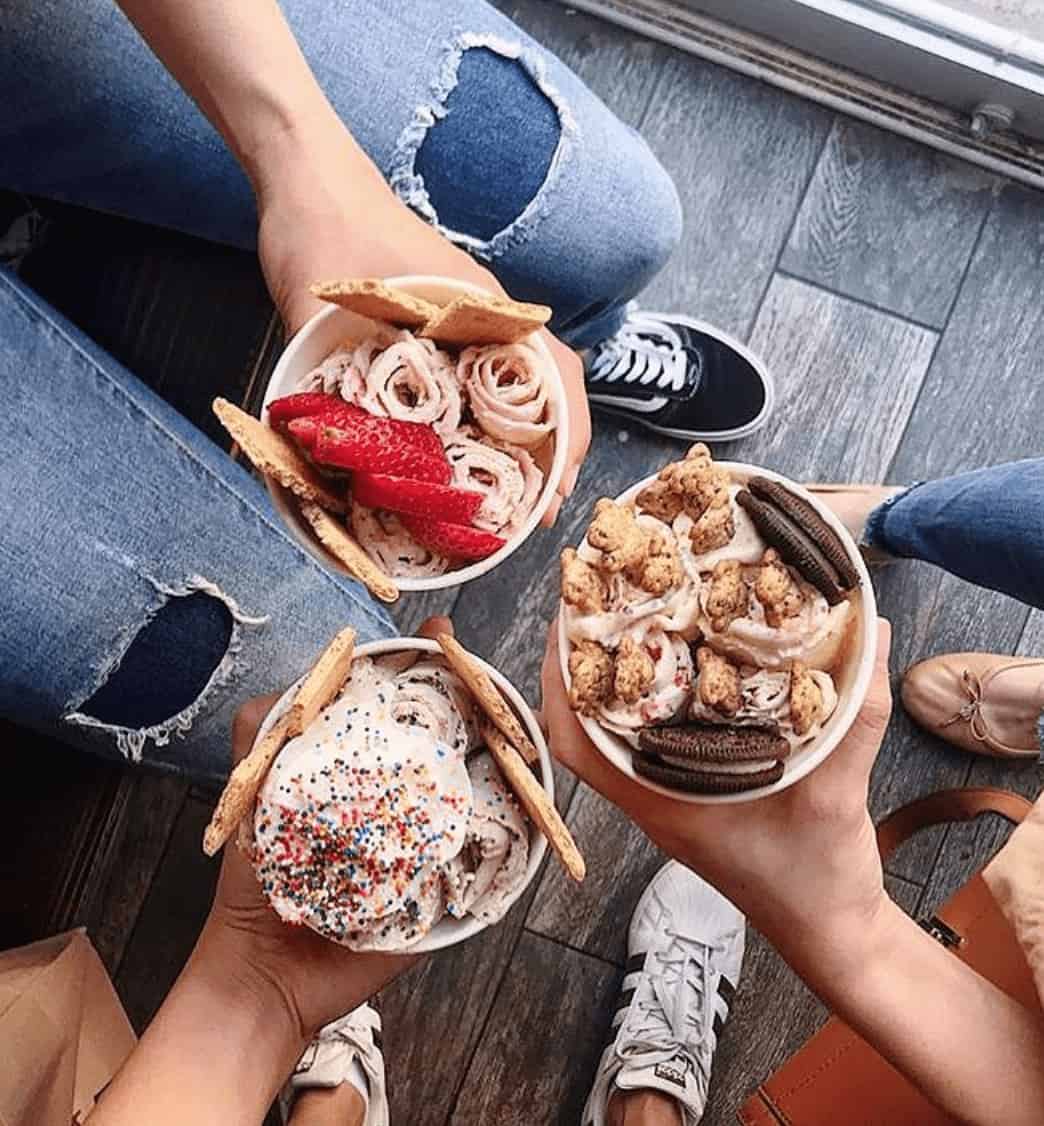 Crowdfund Insider has covered multiple successful ice cream equity crowdfunding campaigns over the years: the global crowd loves ice cream in all its forms. Last May, Spanish Gelateria Ice Wave launched a Crowdcube campaign for its artisanal rolled ice cream, a concept similar to the live Wefunder campaign for 10Below's rolled ice cream.  
10Below recently synced with Wefunder to raise a minimum target of $75,000 for a 2.5% revenue share. To date, over $40,500 has been secured from more than 50 investors. Serving made-to-order Thai-inspired ice cream rolls, 10Below rolls each customer's ice cream with the fresh ingredients, sans preservatives or stabilizers. How does 10Below differ from potential competitor Cold Stone Creamery?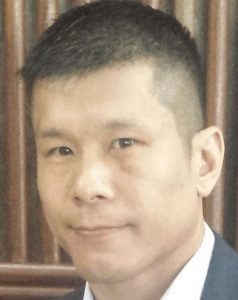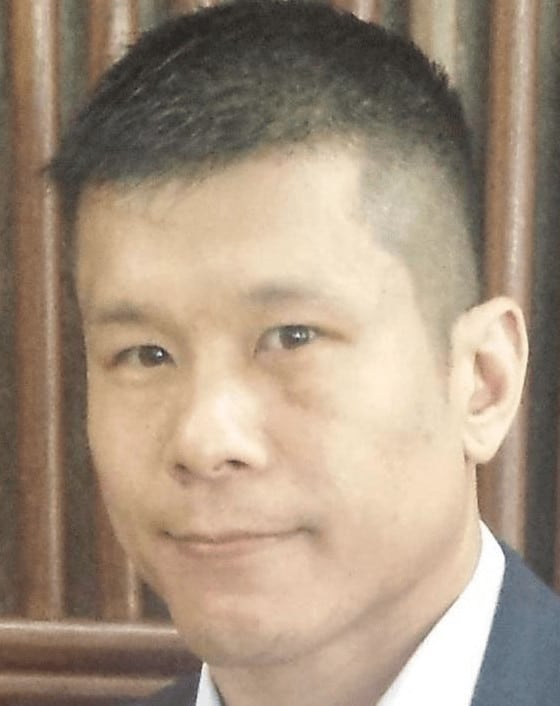 "Cold stone takes pre made ice cream and adds fillings. We have a liquid creme base and we freeze the ice cream right in front of you so there are no preservatives," 10Below CFO Joseph Chan commented on Wefunder. "Also there is no air so all you get is creamy rich heaven."
The Wefunder raise is for a new LLC to expand and manage 10Below Ice Cream franchises across the country. Featured in Eater, Thrillist and Business Insider, by 2019 10Below will be ready to begin offering franchises in standalone brick-and-mortar stores and food courts and retail packaged ice cream in supermarkets.
Serving made-to-order Thai-inspired #icecream rolls @Wefunder @10BelowIceCream #crowdfunding
In 10Below's first three years, the startup reaped $3.45M in sales across its three stores in New York and held 53 catered events. The first 10Below retail location landed in Chinatown, on 10 Mott St, NYC while the next two store locations opened in Flushing and in the East Village.  What should customers expected when they order from 10Below?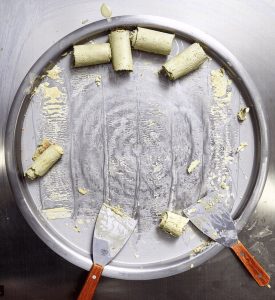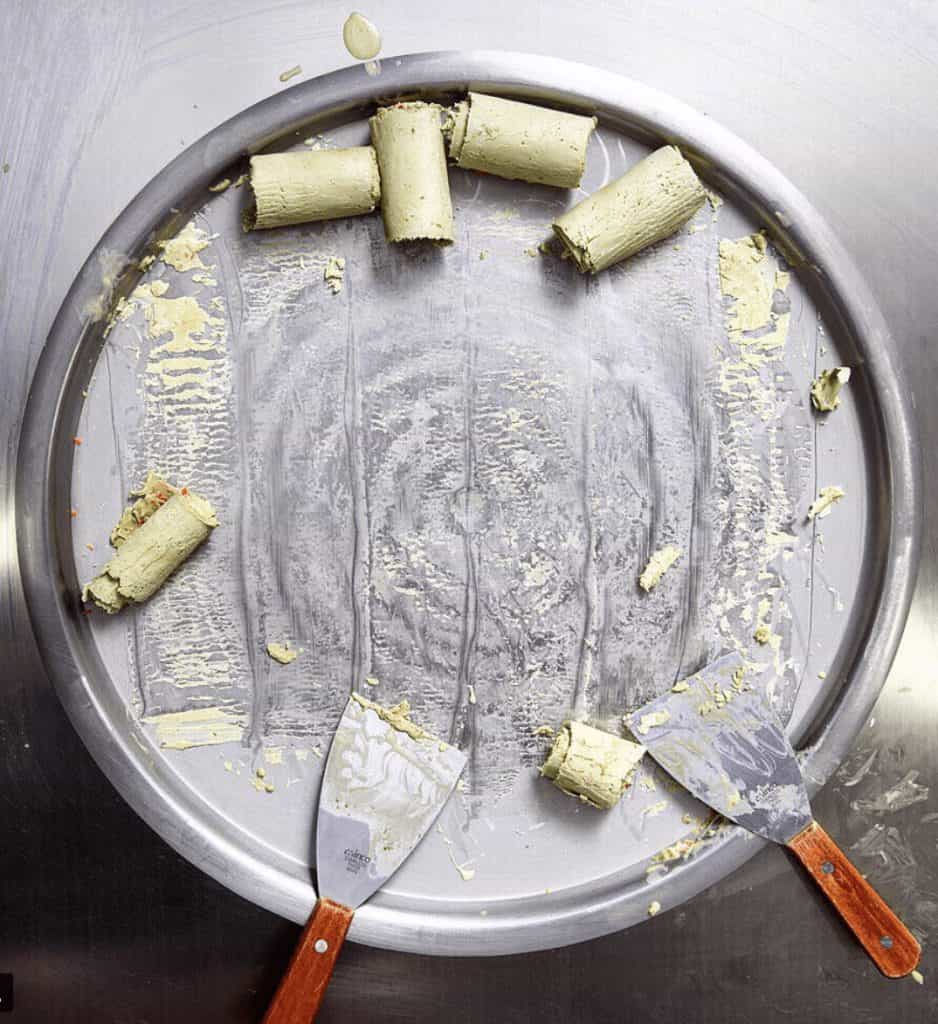 "Our ice cream comes in a 12-ounce white paper cup and is served in a kind of flower bouquet form. We take tightly rolled up rolls of ice cream, which sounds very strange to most people, and then place them into the cup standing vertically so that you can see five or six rolls standing up," explained 10Below Founders on Wefunder. "Then we add a variety of toppings like fresh fruits and dry crackers that bring it all together and make a bouquet of ice cream."
The future? 10Below said that the company would probably expand on the east coast for logistical ease. As expected, the startup is targeting high-traffic areas for its new kiosk locations.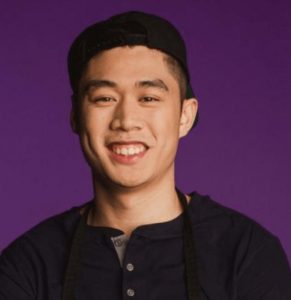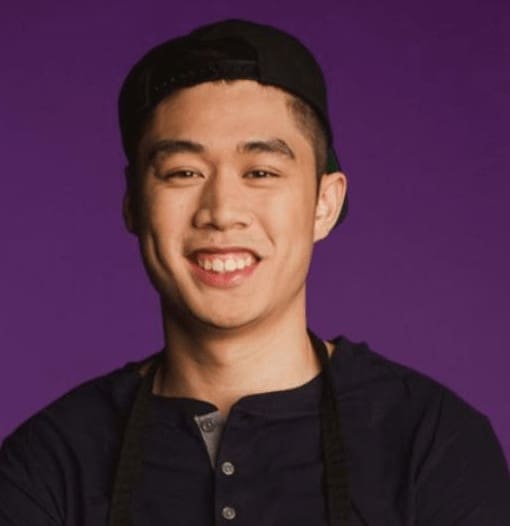 "We figure that every 75k raised we can open a Kiosk. We expect revenue for a kiosk to conservatively be 250k annually. Please keep in mind some of the monies will be used for other business needs as well," added Chan on the Wefunder Q&A. "We expect to sell conservatively 6 franchises a year… So at end of year 3 using these assumptions (18 x 250k) should be 5% x 4.5mm = 225k annual reoccurring revenue. The risk if a franchise close is the loss on going revenue and reputation risk. This is our best guess estimate, and because of SEC regulation, we are unable to make more forward looking statements."
Making ice-cream fresh off the pan! @Wefunder @10BelowIceCream
Why crowdfunding?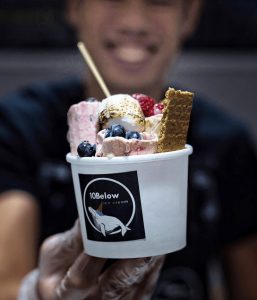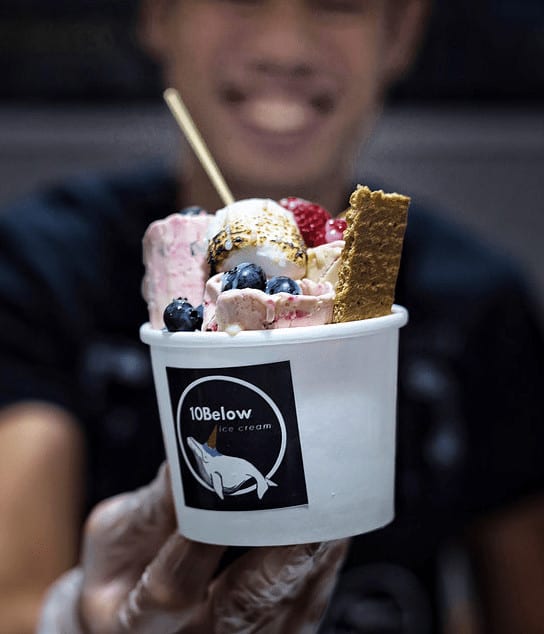 "Crowdfunding is also very much in line with our brand and our message. We've marketed ourselves and positioned ourselves as an interesting and new kind of company selling a new kind of ice cream," commented 10Below Founders. "This kind of crowdfunding for financing and investing is along the same lines. It's a different field that is all about a new way of thinking about business. That lines up with our mission and vision for the business."

Investor perks include coupons for desserts or drinks, hats, stuffed animals and a 2 hour ice-cream making party for the investor and 10 friends. Fora more detailed scoop on 10Below's campaign details, please click here.

Have a crowdfunding offering you'd like to share? Submit an offering for consideration using our Submit a Tip form and we may share it on our site!

Sponsored Links by DQ Promote