Digital bank Revolut is revving up for a $500 million series D funding round, according to recent reports. This next capital injection follows the last round from earlier this year when Revolut raised $250 million at a valuation of $1.7 billion. The funding validated its unicorn status while making it one of the fastest UK Fintechs to top the billion dollar valuation mark ever.
CityAM reports that Revolut is chatting up SoftBank for this newest funding. SoftBank's Vision Fund has backed numerous Fintechs globally so it would be a natural fit to Revolut's vision of becoming the global money center bank of the future.
Revolut management has long spoken about crossing the Atlantic and establishing operations in the USA. In fact, it has been previously reported that a digital bank will be in operation before the end of this year and Revolut was in the process of applying for a US banking license.
Unfortunately for Revolut, the process of becoming a bank in the US is very innovation unfriendly. While establishment banks in the US have moaned about the excessive regulation applied to operate a bank in the states, these same banks have more recently warmed up to the process as it creates a very effective moat for less well-funded banking startups and thus mitigates looming Fintech competition.
If Revolut closes on a $500 million funding round the company should be sufficiently well capitalized to launch in the US. It has been reported that Revolut will first collaborate with an established bank to operate in the US – a common path for Fintechs to provide services.
While a rent a charter strategy is not an optimal approach, it can speed up the process of gaining a foothold in North America while Revolut trudges through the byzantine bank charter process.
A blog post by Revolut published in October highlighted the challenge of managing global regulations: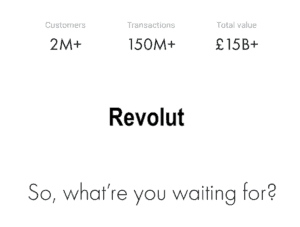 "First things first – expansion is really hard. The truth is that we didn't  know how difficult it was going to be until we got going, and that's because:
Foreign regulation is very complex – we didn't realise how effective and efficient the UK regulatory framework was until we started to look at other markets (one of the reasons I still believe that despite Brexit, the UK will still be the global financial center);
We drastically underestimated the volume of work that would be required – lesson learned;
Striking partnerships in financial services takes a lot of time, especially when you work with the largest banks and payment networks in the world."
While dealing with archaic regulatory structures like those that exist in the US, Revolut remains committed to global expansion. Beyond the US, Revolut says it will expand into many countries including Canada, Hong Kong, Brazil, and Russia.
Just last week, Revolut announced it had topped 3 million customers – all without a single brick and mortar bank branch.
Three years ago, banks and investors laughed at us. Today, we have signed up 3 million customers and no one is laughing now. Thank you! 💙 pic.twitter.com/zVHcFGI3jr

— Revolut (@RevolutApp) November 12, 2018
It will be interesting to see who Revolut chooses to partner with in the US – there are plenty of banks to choose from.

Unlike the UK which is dominated by just a handful of banks, in the US there are thousands of them with several already partnering with Fintechs to be able to provide financial services.

While some US big banks have moved to become digital and millennial-friendly, most are moving slowly and still fall short in being mobile first – the realm in which Revolut excels.

Sponsored Links by DQ Promote