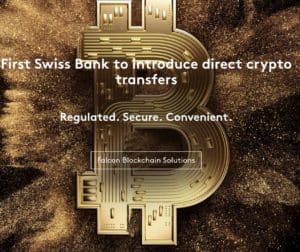 Falcon Private Bank says it is the first Swiss private bank to enable direct transfers of several cryptocurrencies for both private and institutional clients.
According to a release from the firm, clients may now transfer to and from segregated Falcon wallets, Bitcoin, Bitcoin Cash, Ether, and Litecoin. The virtual currencies may also be transferred directly into fiat currency.
The new feature from Falcon makes these digital assets "fully bankable." These assets will also be included in portfolio statements as well as tax documents. Falcon reports it is fully compliant with KYC and AML laws.
Their custody solution has been "audited and reviewed by independent providers," says the company.
Martin Keller, CEO Falcon Private Bank, commented on making crypto transferable:
"Falcon has once more seized the opportunity to demonstrate its expertise as a market leader in the digital assets space by merging traditional private banking services with innovative financial solutions."
In the fall of 2017, Falcon reportedly launched a crypto-asset management product that allowed clients to buy, hold and sell Bitcoin (XBT/BTC) through the bank.
While Falcon Private Bank may now claim to be first to allow crypto to fiat transfers in Switzerland, not too long ago the bank was in the news for the 1MDB fiasco. The Malaysian fraud that has involved many financial institutions from around the world also tripped up the small Swiss bank.
Swiss public officials have positioned the country to be blockchain friendly by creating rules designed to encourage crypto innovation.